BOWIE TV and WHAT'S REALLY HAPPENING IN JULY - MONTHLY PLANNER

[BOWIEWONDERWORLD SHOP] [LATEST DAVID BOWIE ITEMS ON eBAY]
[@bowiewonderworld.com email addresses HERE]
Have YOU got some DAVID BOWIE related news or a hot scoop?
Well don't just sit there keeping it to yourself - send it in to
All news items are credited if you so wish
---
HAPPY BIRTHDAY WISHES TO IMAN
25th July 2013
To Iman
Wishing you a very Happy Birthday
Have a wonderful, fabulous day

Best wishes from everyone here at BowieWonderworld xxxxx
---
AND THE BITS FLEW FAR AND WIDE...
19th July 2013
• Good news for Australians... the DAVID BOWIE Five Years BBC2 UK documentary is to be broadcast on ABC2 on Wednesday 24th July at 8.30pm - [More details]...
• The ATOMIC SUNRISE footage of DAVID BOWIE is returning to The Roundhouse in London. There are two screenings on Saturday 10th August - [More details] - from sweetythang...
• If you've been hiding under a rock and you've not seen the recently found TV news footage of DAVID BOWIE being interviewed in Rochester, New York after being in court back in 1976 - check it out HERE and also the correct version HERE...
• As you are aware the DAVID BOWIE Is exhibition is travelling to Canada and on Saturday 23rd November there's a special event happening there... the 'Bowie Bash - Let's Dance' - [More details]...
---
IT'S HAPPENING TODAY
16th July 2013
Check out the brand new promotional video from DAVID BOWIE for his latest single release 'Valentine's Day'.
Directed by Markus Klinko and Indrani Pal-Chaudhuri - the picture single is released on 7 inch vinyl on 19th August in the UK and the following day in the US.
Trivia: The promotional video was shot at The Port of New York Authority Grain Terminal in Red Hook, Brooklyn, NYC.
Now abandoned, this massive concrete silo, built in 1922, was once the processing centre for grains used for breweries and distilleries shipped down from upstate and the western USA via the Erie Canal. The terminal closed as shipping in Red Hook gave way to New Jersey containerisation beginning in the 1950s. With its 54 joined concrete silos, it has been described as looking like 'concrete ladyfingers'.
There is a wonderful set of photographs of the abandoned building here taken by Charles Le Brigand.
---
THE NEXT DAY SONGBOOK
14th July 2013

Published by Wise Publications last Wednesday is the album songbook for DAVID BOWIE's 'The Next Day'.
Synopsis: Released to the surprise of fans, pundits and even Columbia Records' own PR department, 'The Next Day' is David Bowie's twenty-fourth studio album, announced on his sixty-sixth birthday.
Containing Bowie's first collection of all-new material for over ten years, The Next Day debuted at number 1 and number 2 on charts across the world. A critical as well as commercial success, the album garnered five star reviews from Q, The Independent and The Telegraph, while the Guardian, Mojo, Rolling Stone and The Times gave it four stars.
This matching songbook contains sheet music for all the tracks from The Next Day, including the singles Where Are We Now?, The Stars (Are Out Tonight), The Next Day and Valentine's Day. It also contains the songs from the deluxe version of the album: So She, Plan and I'll Take You There.
All the songs have been expertly arranged for Piano, Vocal and Guitar.
Containing eighty-eight pages - you can purchase David Bowie: The Next Day. Sheet Music for Piano, Vocal and Guitar
NOW.
---
AND THE BITS FLEW FAR AND WIDE...
14th July 2013
• A DAVID BOWIE song will feature on the soundtrack to the new movie 'How To Train Your Dragon 2'. Jay Baruchel and Gerard Butler reprise their lead roles, as do Craig Ferguson, America Ferrera, Christopher Mintz-Plasse and Jonah Hill. Kit Harington joins the cast as the villainous Dragon Prince. 'How To Train Your Dragon' is planned as a trilogy, with the third entry due in 2016. This newest movie hits US theaters on 20th June 2014, in 3-D...
• At the British Athletics Championships in Birmingham it was nice to see JAMIE BOWIE of Inverness Harriers not only winning the Mens 400m semi final, but also supporting Aladdin Sane type arm sleeves! - [View photo]...
• Tickets for the V&A VIP screening of DAVID BOWIE is happening now are on sale now. Join a VIP screening of this live cinema event at the V&A followed by an after-show drinks reception with the exhibition curators, film producers and special guests in the V&A John Madejski Garden. All VIP ticket holders will also receive a free deluxe hardback copy of David Bowie Is, and the best selling exhibition tote bag - [More details]...
---
I CAN SEE THE MAGAZINES...
14th July 2013
• Over in Spain, DAVID BOWIE appears on the front cover of THIS IS ROCK magazine for their July issue (number 109). Inside is a special feature on the creation of 'Aladdin Sane' - [More details]...
• In England the NME (13.7.13) features a Chalkie Davies look-back on DAVID BOWIE's final gig at the Hammersmith Odeon in July 1973 and contains some previously unseen photographs. (Bobbie Gillespie front cover)...
• In Mexico DAVID BOWIE graces the front cover of MOSCA magazine for their July 2013 issue...
---
STRIFE ON MARS
11th July 2013

Designer and illustrator RORY PHILLIPS produced a poster print for a fictitious Japanese movie starring DAVID BOWIE as a Mecha Pilot battling Kaiju on Mars.
It is kind of a space opera with giant robots and monsters. Plus a lot of great original Bowie songs on the Strife On Mars soundtrack.
Bowie plays Flight Captain of the 8th Mars Mecha Squadron, nicknamed 'The Spiders'. When Kaiju (strange giant monsters) from beyond the X dimension attack the human colonies of Mars, it's up to Bowie and The Spiders to save the last human outpost on Mars. With the help of plucky female scientist Rin Ayumi and her young nephew Hiro can Bowie discover the secret to defeating the Kaiju? And who is the mysterious time traveller Ako-X?
This Giclee print on archival Moab paper in a limited edition of 30 was signed and numbered. Print size 13x19 image size 11x17. Unfortunately these are now sold out. Fingers crossed there has been a lot of demand for a reprint, so it's probably going to happen in the not too distant future.
Check out gogopicnic for more details and information.
---
IT'S VALENTINE'S DAY?
7th July 2013
It's looking like 'Valentine's Day' backed with 'Plan' will be the next DAVID BOWIE single to be released from his recent album The Next Day.
Released on a 7 inch vinyl format, several websites are listing 8th August or 19th August as the release date on the Sony Columbia label (cat. number 88883756667).
There's even an early eBay listing here
---
AND THE BITS FLEW FAR AND WIDE...
7th July 2013
• Taking place next month on August 2nd-8th in New York, USA the FILM SOCIETY OF LINCOLN CENTER presents 'Watch That Man: David Bowie, Movie Star' - featuring various movies, documentaries and promo videos and a BBC drama. Included are: Absolute Beginners, Baal, Basquiat, Christiane F., Cracked Actor, The Hunger, Just A Gigolo, Labyrinth, The Man Who Fell To Earth, Merry Christmas Mr. Lawrence, David Bowie: The Music Videos 1979-2013, The Prestige, Ziggy Stardust and The Spiders From Mars (The Motion Picture). Tickets are on sale NOW. Visit filmlinc.com for the full low-down on all the movies and documentaries being shown...
• Rumour alert... DAVID BOWIE has filmed a commercial for fashion house LOUIS VUITTON - whilst in Venice, Italy last week. Hmm David was wearing a Louis Vuitton Spring/Summer jacket in his The Stars (Are Out Tonight) promo video. So I reckon it's either a commercial or something for the next single release? - [Read here]...
• Rumour alert... same story doing the rounds again... DAVID BOWIE has been asked to play the role of Hannibal's uncle in season 2 of the NBC series in Canada...
• Guitarist EARL SLICK lets it be known that there will be no DAVID BOWIE tour this year. Earl told the NME "There'll definitely be no shows this year... As for next year, who knows? There's no conspiracy about a tour now, there just is no tour."...
---
RICHARD YOUNG GALLERY EXHIBITION
7th July 2013
A brand new exhibition of DAVID BOWIE photographs taken by RICHARD YOUNG opens in London next week.
The show features 16 photos, including six new and never-before-seen shots recently discovered from Young's Archive.
Young, who has been photographing Bowie since 1976, recalled his very first meeting with the Hunky Dory star: "In 1964 when I was sixteen, I used to hang out in the Bataclan Club in Princes Street near Oxford Circus it was a very cool place to hang out in the day. It was there I met a guy called Geoff, we became friends through our love of music and French girls.
"Very often on Sunday afternoons a group of us would make our way to Geoff's place in South London where we would listen to soul music till the early hours. Occasionally a guy called David Jones would come over and hang out. Little was I to know who David would become! Sadly as it was over forty years ago and we were all in a psychedelic haze, I don't remember much else of what went on."
He added: "I recently chatted with David about the old days and he couldn't remember much either! Geoff MacCormack went on to become David's back up singer and it wasn't until 1974 that I became a photographer."
DAVID BOWIE opens at the Richard Young Gallery at 4 Holland Street in London on 12th July and runs until 25th October.
---
THREE MORE SPECIAL BOWIE EVENTS AT THE V&A
7th July 2013
• There are three more Special Events lined up at the V&A MUSEUM...
• First up is an Evening Event... JON SAVAGE and MICHAEL BRACEWELL talk about DAVID BOWIE at The Lydia and Manfred Gorvy Lecture Theatre, V&A, London at 18.30 until 19.30 - [More details]...
• Special V&A FREE Event... 'DAVID BOWIE: London Boy to Earthling' by assistant curator of David Bowie Is KATHRYN JOHNSON is a lunchtime lecture taking place on 31st July at The Lydia and Manfred Gorvy Lecture Theatre, V&A, London at 13.00 - [More details]...
• Special V&A FREE event lined up is 'DAVID BOWIE: Strange Fascination' by author DR. DAVID BUCKLEY is a lunchtime lecture taking place on 7th August at The Lydia and Manfred Gorvy Lecture Theatre, V&A, London at 13.00 - [More details]...
---
CALLING ALL BOWIE FANS!
7th July 2013
Would you like to appear in the upcoming DAVID BOWIE movie?
DONE AND DUSTED PRODUCTIONS in London are working with the V&A MUSEUM to bring their 'David Bowie is' exhibition live into cinemas on August 13th 2013 and they are looking for fan contributors.
If you would be interested in appearing please see the flyer attached and follow the instructions. We are looking for a large number of contributors so please feel free to forward this flyer on to as many David Bowie fans as possible!
For one night only the Victoria and Albert Museum is opening the doors of the 'David Bowie is' exhibition to a group of invited guests for an exclusive private view. This sell out exhibition takes visitors inside and mind of one of the most prolific and significant artists alive today, David Bowie.
The event will be filmed as part of a one-off live cinematic release on 13th August 2013 and attendees will be asked on camera for responses to the exhibition as they are experiencing it.
If you are interested in being part of this one-off opportunity please email putting David Bowie is - Private View in the subject box.
Please include your name, contact number, occupation and a sentence that describes what David Bowie is to you.
From Alex Parker at Done and Dusted Productions Ltd.
---
DAVID BOWIE IS HAPPENING NOW
1st July 2013
David Bowie is happening now: A Live Nationwide Cinema Event.
19.00 Tuesday 13th August 2013.
The V&A present David Bowie is happening now, a nationwide cinema event screened live from David Bowie is as the finale to the enormously successful exhibition.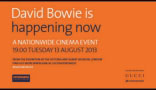 This unique event will be shown in over 200 cinemas across the UK for your last chance to experience the exhibition before it goes on international tour. The film will be introduced by exhibition curators, Victoria Broackes and Geoffrey Marsh, and will feature special guests offering an insight into the stories behind some of the 300 objects from the David Bowie Archive, many of which have never before been displayed in public.
David Bowie is happening now will be directed by BAFTA winning director, Hamish Hamilton who directed the live TV coverage of the opening and closing ceremonies at the London 2012 Olympic and Paralympic Games, and produced by Done & Dusted Productions Ltd. The event will be brought to cinemas across the country by Picturehouse Entertainment Ltd.
The event will be screened at all participating cinemas on Tuesday 13th August 2013, doors open 18.45 screening at 19.00.
Tickets will be available at participating cinemas from Friday 28th June. Ticket prices £10-£14 (prices may vary depending on venue).
MORE CINEMAS TO BE ANNOUNCED. CHECK BACK FOR UPDATES.
Priority Booking at Picturehouse Cinemas.
V&A Members can book tickets for David Bowie is happening now at 20 Picturehouse Cinemas from Monday 24th June to Thursday 27th June. Please call 0871 902 5747 quoting 'V&A Member', and have your membership number to hand. V&A Members will receive a £2 discount on the full ticket price.
Tickets will be on general sale from Friday 28th June. Full price £14, concessions £13, Members £12.
Please visit picturehouses.co.uk/DavidBowieis for participating cinemas.
More details and information can be found over at vam.ac.uk
---
MICK RONSON LEGACY EVENT
1st July 2013

Taking place in Hull this month on Saturday 13th July is the MICK RONSON Legacy - a fan based event to celebrate the life of Mick Ronson and Trevor Bolder, two sons of Hull sadly no longer with us.
Featuring The Zanna Gregmar Band, The Black Delta Movement, Rock and Ronson Band, Happy Endings and The Hillbilly Troupe.
The venue is The Piper, Newland Avenue, Hull, England HU5 2NN.
Doors open at 7.30, after party until 3am, with tickets priced at a reasonable £5 plus 50p P&P with all profits going to two worthy charities.
Tickets can be obtained via PayPal at or pay on the door.
More details and information can be found over on facebook event page.
From John Bird.
---
'DAVID BOWIE IS' NEXT STOP... CANADA
1st July 2013
After the unprecedented success at the V&A in London, the DAVID BOWIE IS exhibition heads next to Canada this coming Fall.
The exhibition will be held at the AGO (Art Gallery of Ontario) it opens on Wednesday 25th September and runs through until Wednesday 27th November.
Venue: Art Gallery of Ontario (Musée des beaux-arts de l'Ontario).
Address: 317 Dundas Street West, Toronto, Ontario, Canada M5T 1G4.
Telephone: 416 979 6648 / 1 877 225 4246 (toll-free).
Website: ago.net
Opening Times:
Monday CLOSED.
Tuesday 10 am - 5:30 pm
Wednesday 10 am - 8:30 pm
Thursday 10 am - 5:30 pm
Friday 10 am - 5:30 pm
Saturday 10 am - 5:30 pm
Sunday 10 am - 5:30 pm
Check out ago.net for more details and information.
This is the first stop on a world tour for the show. The only other 100% confirmed date known so far is in Brazil at The São Paulo Museum of Image and Sound which takes place on 28th January through to 21st April 2014.
---
MEMORY OF A FREE FESTIVAL AT BECKENHAM
1st July 2013
Memory of a Free Festival at Beckenham (Croydon Road Recreation Ground) is taking place on 15th September 2013 in Beckenham, London.
This festival will be homage to the Free Festival, organised by DAVID BOWIE and the Beckenham Arts Lab, which was held at Croydon Road Recreational Ground in Beckenham on 16th August 1969.
The aim of the festival is to raise funds to save the Bandstand on which David Bowie has performed at the Free Festival in 1969. This is no ordinary bandstand! This late Victorian cast iron bandstand has historic and sentimental value and is presently in a desperate need of restoration.
Friends of the Park [becrec.net] are organising the Memory of a Free Festival musical festival in September 2013 and are looking for volunteers to help at the event. Any help is welcome!
We are looking for total of 4 bands to play at the bandstand who can perform any selection of David Bowie songs (a short tribute if you like) as well as their own music material.
We are also looking for volunteers to collect donations, security, face painting amongst other organisational tasks.
The entrance will be free, but as the purpose of the event is to help raise the funds for the bandstand renovations, there will be buckets shaken at the festival to collect donations.
If you are a band wishing to participate, please send a sample of your music or a link to where we can listen to it. I will finalise the response and reply in the second week of July.
Please contact Natasha by email if interested in participating. Otherwise look out for the final announcement of the date and come along!!
Please follow us on Facebook to hear the news on the event.
From Natasha.
---
DAVID BOWIE WONDERWORLD NEWS ARCHIVE
June | May | April | March | February | January
2012 Bowie News | 2011 Bowie News | 2010 Bowie News | 2009 Bowie News
2008 Bowie News | 2007 Bowie News | 2006 Bowie News | 2005 Bowie News
2004 Bowie News | 2003 Bowie News | 2002 Bowie News | 2001 Bowie News
2000 Bowie News | 1999 Bowie News | 1998 Bowie News | 1997 Bowie News






| | |
| --- | --- |
| Created: July 2013 © Paul Kinder | Last Updated: 25/7/13 |