BOWIE TV and WHAT'S REALLY HAPPENING IN SEPTEMBER - MONTHLY PLANNER

[BOWIEWONDERWORLD SHOP] [LATEST DAVID BOWIE ITEMS ON eBAY]
[@bowiewonderworld.com email addresses HERE]
Have YOU got some DAVID BOWIE related news or a hot scoop?
Well don't just sit there keeping it to yourself - send it in to
All news items are credited if you so wish
---
THE JEAN GENIE 2012
18th September 2012

EMI are set to release another DAVID BOWIE 40th anniversary picture disc single limited edition release.
This third 40th celebration picture disc release is 'The Jean Genie' in a 7 inch single picture disc format (Cat No. DBJean40) and is scheduled to hit the shops on Monday 19th November.
As you can see the picture disc features a Mick Rock shot featuring David and Cyrinda Foxe in a bar in San Francisco.
David Bowie's third British hit single of 1972, and the biggest one yet. Released just in time for Christmas, 'The Jean Genie' soared to number two in the British single charts.
The B-side is the live 'Top Of The Pops' audio - significantly different to the original single.
Tracklisting:
Side A: The Jean Genie (2012 - Remaster).
Side B: The Jean Genie (Top Of The Pops Version).
There are several record shops already selling pre-orders. Most are limited to ONE copy per customer. Pre-order now and expect to pay £7.99.
There are plenty of listings over on eBay or if you prefer to use Amazon you can pre-order NOW
and you will pay the lowest price listed at the time.
---
NME ULTIMATE ICON
18th September 2012
DAVID BOWIE came in third place in the New Musical Express search for their 'Ultimate Icon' of the last 60 years.
John Lennon topped their poll, with Liam Gallagher in second place.
Over 160,000 votes were cast in the poll, which ran for over six months and has taken place to celebrate NME's 60th birthday.
01. John Lennon.
02. Liam Gallagher.
03. David Bowie.
04. Alex Turner.
05. Kurt Cobain.
06. Amy Winehouse.
07. Jimi Hendrix.
08. Morrissey.
09. Noel Gallagher.
10. Ian Curtis.
From NME.com website.
---
JOHN, I'M ONLY DANCING 2012
4th September 2012

Hopefully you've all managed to get hold of your copy of the DAVID BOWIE 40th Anniversary limited edition of 'John, I'm Only Dancing' that was released yesterday in Europe.
One-day release from EMI (catalogue number: DBJOHN40) the 7 inch picture vinyl single contains:
Side A: John, I'm Only Dancing (Original Single Version) (2012 - Remaster).
Side B: John, I'm Only Dancing (Sax Version) (2012 - Remaster).
For those of you who haven't manged to bag yourself one, here are the three cheapest BuyItNow sellers on eBay that I can find at present...
The single gets its US release next week on Tuesday 11th September.
---
DAVID BOWIE IS... AT THE V&A
4th September 2012
The V&A have announced full details of the forthcoming DAVID BOWIE exhibition to be held in London next year...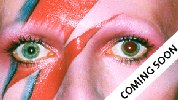 David Bowie is: About the Exhibition.
The V&A has been given unprecedented access to the David Bowie Archive to curate the first international retrospective of the extraordinary career of David Bowie - one of the most pioneering and influential performers of modern times. David Bowie is will explore the creative processes of Bowie as a musical innovator and cultural icon, tracing his shifting style and sustained reinvention across five decades.
The V&A's Theatre and Performance curators, Victoria Broackes and Geoffrey Marsh have selected more than 300 objects that will be brought together for the very first time. They include handwritten lyrics, original costumes, fashion, photography, film, music videos, set designs, Bowie's own instruments and album artwork.
The exhibition will explore the broad range of Bowie's collaborations with artists and designers in the fields of fashion, sound, graphics, theatre, art and film. On display will be more than 300 objects including Ziggy Stardust bodysuits (1972) designed by Freddie Burretti, photography by Brian Duffy; album sleeve artwork by Guy Peellaert and Edward Bell; visual excerpts from films and live performances including The Man Who Fell to Earth, music videos such as Boys Keep Swinging and set designs created for the Diamond Dogs tour (1974). Alongside these will be more personal items such as never-before-seen storyboards, handwritten set lists and lyrics as well as some of Bowie's own sketches, musical scores and diary entries, revealing the evolution of his creative ideas.
What: David Bowie is.
When: Saturday 23rd March 2013 - Saturday 28th July 2013.
Where: Victoria & Albert, Exhibition Space Two, Cromwell Road, London SW7 2RL.
In partnership with Gucci. Sound Experience by Sennheiser.
David Bowie is: Visitor and Ticket Information.
BOOKING INFORMATION:
Timed tickets are in operation. Advance booking is strongly recommended.
Free to V&A Members.
Book online
Prices:
£15.50 Full (including donation*).
£12.50 Senior citizens (including donation*).
£14.00 Full.
£11.00 Senior citizens.
£9.00 Full-time students, 12-17 year olds, ES40 holders, disabled people.
£23.00/£37.00 Family tickets (1 adult & 2 12-17 year olds / 2 adults & 2 12-17 year olds).
Plus £1 handling charge per transaction.
*If you donate a minimum of 10% on top of your ticket price and are a UK tax payer, the Gift Aid scheme means we can claim back the tax you have already paid on the earnings used to buy the ticket. This means we can claim an additional 25p for every £1 you give us - vital support for our work.
Book in person at the V&A: Prices as above. No handling charge or booking fee.
Book by phone: +44 (0)20 7907 7073 (more than 48 hours prior to visit only).
Prices:
£17.30 Full (including donation*).
£14.10 Senior citizens (including donation*).
£10.60 Full-time students, 12-17 year olds, ES40 holders, disabled people.
£26.20 Family of 3 (one adult & two 12-17-year-olds).
£40.70 Family of 4 (two adults & two 12-17-year-olds).
Includes booking fee per ticket.
Free tickets and member rates: Free to under-12s, carers accompanying disabled people, V&A Members and Patrons, ICOM / Museum Association card holders, Blue Badge Guides, American and International Friends of the V&A. Half-price tickets for Art Fund and D&AD members.
Groups (10+ visitors): 10% discount. Call +44 (0)20 7942 2211 to book. Special talks and tours are available to complement the exhibition. Call +44(0)20 7942 2211 or email
Educational Groups (10+ visitors): Admission is £2 per person for school, college and university groups booking at least 10 days in advance. Call +44 (0)20 7942 2211 to book (all pre-bookings are timed entry).
Community Groups (10+ visitors): Admission is free to community groups booking at least 10 days in advance. Call +44 (0)20 7942 2211 to book (all pre-bookings are timed entry).
Visitor Information. Exhibition opening times:
23rd March - 28th July 2013.
Daily 10.00-17.30 (last ticket sold 16.45, last entry 17.00).
Friday 10.00-21.30 (last ticket sold 20.45, last entry 21.00).
Exhibition closes 15 minutes prior to the Museum closing.
Late night opening: The V&A is open late every Friday - why not take this opportunity to visit David Bowie is, meet friends and have a drink in our cafe-bar.
London Underground: The Museum is a 5-minute walk from South Kensington London Underground station (Piccadilly, Circle and District Lines) and a 10-minute walk from Knightsbridge London Underground station (Piccadilly Line).
Buses: The C1, 14, 74 and 414 stop outside the Cromwell Road entrance. The Open Tour stop outside the Museum as part of their Double Decker Bus sightseeing tour of London.
Access: There is full access to the galleries. We have a wide range of services for disabled visitors. Call +44 (0)20 7942 2766 or textphone +44 (0)20 7942 2002 for details. For more information on access, see V&A Disability Information
Photography: We are not able to allow photography in the temporary exhibitions due to copyright restrictions.
Tickets are ON SALE NOW. For more details and information visit the vam.ac.uk website.
---
AND THE BITS FLEW AND WIDE...
2nd September 2012
• The second album from TIN MACHINE was released twenty-one years ago this very day...
• Pianist extraordinaire MIKE GARSON is all set to perform at the Lincoln Park Performing Arts Center in Midland, PA, USA on 15th September. Mike's free 7:30 p.m. public recital will cap a week of workshops with music students at the Lincoln Park Performing Arts Charter School. The first half of the show, in the main stage theater, will be Garson performing with students and faculty; the second half will be Garson and faculty, probably in the form of a jazz quartet - [More details]...
• Former DAVID BOWIE band backing singer HOLLY PALMER will be performing with her band THE GOODS at Hotel Cafe in Los Angeles (twice) this month and this will most likely be their last two shows for 2012 while they bounce on and off the road with their day jobs: Lucy is singing with Rod Stewart and Holly be in Europe with Seal from mid-October right up till Christmas. The two shows in LA are on Thursday 13th and 27th September at Hotel Cafe, 1623 Cahuenga, LA, CA 90028, USA at 8pm...
• Also HOLLY PALMER is about ten songs into a new batch of solo music. She has been writing via Skype from hotel rooms on tour this summer and getting ready for her pal Pete Glenister to come record with her in LA this fall...
• TV presenter LORRAINE KELLY gets her six monthly DAVID BOWIE namedropping into an interview. Lorraine is interviewed by the Radio Times, who pose the question: 'You are the new co-host of Daybreak from this week who would be your dream guest?'... Lorraine: I have been a fan of David Bowie since 1969 and I would dearly love to interview him. But I think I would be beside myself. I probably wouldn't make any sense at all; I would be a gibbering wreck...
---
BOWIE/SUKITA: CHANGES EXHIBITION IN OZ AND NZ
1st September 2012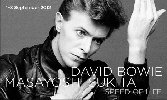 MASAYOSHI SUKITA the Japanese photographer and friend of DAVID BOWIE is visiting Australia to launch the Genesis Publications book SPEED OF LIFE.
Mossgreen Gallery have announced the 'Bowie/Sukita: Changes - A Limited Edition Art Series' which is an exhibition of photographs in a limited edition and are world exclusives. David Bowie has personally signed them for this exhibition.
The exhibition opens on Saturday 1st September through to 8th September at the Mossgreen Gallery, 310 Toorak Road, South Yarra, 3141, Melbourne, Victoria, Australia.
You can view the limited edition photographs here at the mossgreen.com.au website.
If you use Facebook - check out the events page
Thanks to Adam D for the heads up.
Update: Hedleys Books who have organised the Sukita exhibition and are the exclusive Australasian distributors for the Speed Of Life book have added another exclusive launch in New Zealand.
The NZ exhibition will be held at HedSpace Gallery, 150 Queen Street (within Hedleys Bookshop) in Masterton, New Zealand (just north of Wellington) with Masayoshi Sukita from 6pm on 4th September. The exhibition will run from 4th September until 6th October.
Admission is free. For more information contact David Hedley on (06) 3782875 or email: or check out Hedleys Books Facebook pages.
---
DAVID BOWIE WONDERWORLD NEWS ARCHIVE
August | July
June | May | April | March | February | January
2011 Bowie News | 2010 Bowie News | 2009 Bowie News
2008 Bowie News | 2007 Bowie News | 2006 Bowie News | 2005 Bowie News
2004 Bowie News | 2003 Bowie News | 2002 Bowie News | 2001 Bowie News
2000 Bowie News | 1999 Bowie News | 1998 Bowie News | 1997 Bowie News






| | |
| --- | --- |
| Created: September 2012 © Paul Kinder | Last Updated: 18/9/12 |