BOWIE TV and WHAT'S REALLY HAPPENING IN OCTOBER - MONTHLY PLANNER

[BOWIEWONDERWORLD SHOP] [LATEST DAVID BOWIE ITEMS ON eBAY]

[@bowiewonderworld.com email addresses HERE]

Have YOU got some DAVID BOWIE related news or a hot scoop?
Well don't just sit there keeping it to yourself - send it in to
All news items are credited if you so wish

[DOWNLOAD DAVID BOWIE MUSIC from Amazon
]



---
DAVID BRIGHTON BOWIE TRIBUTE GIGS
26th October 2009

DAVID BRIGHTON and the Space Oddity Band will be performing in Beaumont Texas with The British Superstars Show (with Tributes to David Bowie and Rod Stewart) on 29th October.

Show time: 8:00pm at the Julie Rogers Theatre, 765 Pearl Street, Beaumont, Texas 77701, USA. Additional info (409) 838-3435 ext. 1

The band will also be appearing live in concert on 30th October at Skye Supper Club, 16844 N. Arrowhead Fountain Center Drive Peoria, Arizona, USA. Show time: 7:30pm.

More details and information can be found over at davidbowietribute.com

From David B.


---
MAIDA VALE REVISITED
26th October 2009

The BBC are repeating the DAVID BOWIE Maida Vale performance from 18th September 2002 as a part of their 75th anniversary celebration of the studios.

Introduced by Jonathan Ross, the complete set of ten songs performed were all broadcast, with the only editing being a few comments made by David inbetween songs. The set list was as follows:




Sunday
Look Back In Anger
Cactus
Survive
5:15 The Angels Have Gone
Alabama Song
Everyone Says Hi
Rebel Rebel
The Bewlay Brothers
Heathen (The Rays)

The 60 minute broadcast this coming Thursday 29th October on Radio 2 at 23:00 GMT.

More details can be found at bbc.co.uk

Thanks to Mark for the pointer.


---
SPACE ODDITY 40th ANNIVERSARY USA RELEASE
25th October 2009



The US release of DAVID BOWIE Space Oddity 2CD '40th Anniversary Special Edition' hits the stores on 17th November.

Following the July release of David Bowie's 'Space Oddity (40th Anniversary)' digital EP and iPhone application, Virgin/EMI will release an expanded 40th Anniversary Special Edition of Bowie's classic 1969 Space Oddity album on November 17th.

To be available in a deluxe 2CD package and for digital download from all major digital service providers, the commemorative edition adds 15 tracks to the digitally remastered original album, including 8 previously unreleased demos, alternate mixes and a BBC Radio performance.

On the same date, the original album will also be reissued on limited edition 180-gram vinyl.

You can read the official US press release here.

From EMI


---
D&I ATTEND 6th ANNUAL BLACK BALL
18th October 2009

DAVID BOWIE and IMAN turned out for the 6th Annual 'Keep A Child Alive' Black Ball charity event on Thursday evening.

The event took place in New York at the Hammerstein Ballroom and was hosted by Alicia Keys and Padma Lakshmi.

Other celebrity guests included: Halle Berry, Mary J. Blige, Queen Latifah, Samuel L. Jackson, Usher, Adrien Grenier, Chris Martin, John Mayer, Spike Lee, Tyler Perry, Tyson Beckford, Estelle, Roland Martin and lots more.

Funds raised from the event will be used to provide crucial medication to AIDS-stricken families in Africa.

Please visit keepachildalive.org for more information on this charity and how you can help.

Check out some photographs via WireImage


---
AND THE BITS FLEW FAR AND WIDE...
17th October 2009

• Presenter DERMOT O'LEARY features as DAVID BOWIE (aka Jareth) in one of four TV clips by the BBC to promote their upcoming 'Children In Need' night of programming on BBC1 on Friday 20th November - [Watch Promo]...

• Currently on tour AFI performed their version of DAVID BOWIE's 'Ziggy Stardust' during a soundcheck the other day. You can download the free track here - from [CraveOnline]...

• RED PRIEST's upcoming Bach masterworks CD is entitled 'Johann, We're Only Dancing' - which obviously pays tribute to DAVID BOWIE as well as Bach - [More details]...

• Movie director DUNCAN JONES has won yet more accolades for his directorial debut MOON - he collected four of the most high profile awards at The International Sci-Fi and Fanstasy Film Festival in Sitges, Spain for best film, best screenplay, best production design and best actor for Sam Rockwell's performance...

• DAVID BOWIE and Iggy Pop are to feature as playable characters in 'Lego Rock Band' which is due for release on the 360, PS3, Wii and DS on 27th November - David's 1983 number one hit 'Let's Dance' is featured and Iggy's 'The Passenger' - Iggy also voices the in-game tutorials - Check out a [video snippet here]...


---
ZIGGY'S ROYAL STAMP OF APPROVAL
16th October 2009



DAVID BOWIE's 1972 album masterpiece 'The Rise and Fall of Ziggy Stardust and The Spiders from Mars' is one of ten album covers to be featured in the 'Design Classics: Classic Album Covers' stamp series to be issued by The Royal Mail.

Released next year on 7th January the 10 self-adhesive 1st class stamps, with an unusual off-square design, also includes Blur: Parklife, The Clash: London Calling, Coldplay: A Rush Of Blood To The Head, Led Zeppelin: IV, New Order: Power, Corruption and Lies, Mike Oldfield: Tubular Bells, Pink Floyd: The Division Bell, Primal Scream: Screamadelica and The Rolling Stones: Let It Bleed.

More details and information can be found at the norphil.co.uk website.


---
COMMENCING COUNTDOWN...
11th October 2009



Tomorrow sees the release of DAVID BOWIE 40th Anniversary Edition
of 'Space Oddity' in UK and Europe.

The two-disc edition is released on Monday 12th October.

The first disc contains the full original album 'David Bowie' first released on the Philips label in November 1969 and the US Mercury release 'Man Of Words, Man Of Music'.

The second disc contains fifteen tracks including eight previously unreleased versions.

The tracklisting for the DAVID BOWIE - Space Oddity 40th Anniversary Edition runs as follows:

CD 1:
01. Space Oddity (5.14)
02. Unwashed And Somewhat Slightly Dazed (incl Don't Sit Down) (6.51)
03. Letter To Hermione (2.32)
04. Cygnet Committee (9.31)
05. Janine (3.21)
06. An Occasional Dream (2.54)
07. Wild Eyed Boy From Freecloud (4.46)
08. God Knows I'm Good (3.17)
09. Memory Of A Free Festival (7.09)

CD 2:
01. Space Oddity (demo) (5.10) *
02. An Occasional Dream (demo) (2.49) *
03. Wild Eyed Boy From Freecloud (single B-side with spoken intro) (4.56)
04. Brian Matthew Interview/Let Me Sleep Beside You (BBC Radio session DLT Show) (4.45)
05. Unwashed And Somewhat Slightly Dazed (BBC Radio session DLT Show) (3.54) *
06. Janine (BBC Radio session: DLT Show) (3.02)
07. London Bye Ta-Ta (stereo version) (3.12)
08. The Prettiest Star (stereo version) (3.12)
09. Conversation Piece (stereo version) (3.06) *
10. Memory Of A Free Festival (Part 1) (single A-side) (4.01)
11. Memory Of A Free Festival (Part 2) (single B-side) (3.30)
12. Wild Eyed Boy From Freecloud (alternate album mix) (4.45) *
13. Memory Of A Free Festival (alternate album mix) (9.22) *
14. London Bye Ta-Ta (alternate stereo mix) (2.34) *
15. Ragazzo Solo, Ragazza Sola (full length stereo version) (5.14) *

Tracks marked * are all previously unreleased.

You can pre-order Space Oddity 40th Anniversary Edition
now.


---
BOWIE: A BIOGRAPHY
1st October 2009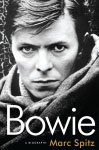 From noted author and rock 'n' roll journalist MARC SPITZ comes a major DAVID BOWIE biography to rival any other published by Crown/Random House (ISBN-10: 0307393968).

Following Bowie's life from his start as David Jones, an R&B-loving kid from Bromley, England, to his rise to rock 'n' roll aristocracy as David Bowie, the book recounts his career but also reveals how much his music has influenced other musicians and forever changed the landscape of the modern era.

Along the way, Spitz reflects on how growing up with Bowie as his soundtrack and how writing this definitive book on Bowie influenced him in ways he never expected, adding a personal dimension that Bowie fans and those passionate about art and culture will connect with and that no other bio on the artist offers.

'Bowie' takes an in-depth look at the culture of postwar England in which Bowie grew up, the mod and hippie scenes of swinging London in the sixties, the sex and drug-fueled glitter scene of the early seventies when Bowie's alter-ego Ziggy Stardust was born, his rise to global stardom in the eighties and his subsequent status as an elder statesman of alternative culture. Spitz puts each incarnation of Bowie into the context of its era, creating a cultural time line that is intriguing both for its historical significance as well as for its delineation of this rock 'n' roll legend, the first musician to evolve a coherent vision after the death of the sixties dream.

Based on a hundred original interviews with those who knew him best and those familiar with his work, 'Bowie' gives us not only a portrait of one of the most important artists in the last century, but also an honest examination of a truly revolutionary artist and the unique impact he's had across generations.


The 400 page hardcover version is published by Crown Publishing Group (NY) on Tuesday 27th October.

You can pre-order Bowie: A Biography
NOW and receive an 18% discount.


---
"I SEE THINGS"
1st October 2009



Penguin Modern Classics have published The Man Who Fell to Earth
by Walter Tevis in paperback form and DAVID BOWIE (aka Thomas Jerome Newton) is featured on the cover.

Sypnosis: Thomas Jerome Newton is an extraterrestrial from the planet Anthea, which has been devastated by a series of nuclear wars, and whose inhabitants are twice as intelligent as human beings.

When he lands on Earth - in Kentucky, disguised as a human - it's with the intention of saving his own people from extinction. Newton patents some very advanced Anthean technology, which he uses to amass a fortune. He begins to build a spaceship to help the last 300 Antheans migrate to Earth. Meanwhile, Nathan Bryce, a chemistry professor in Iowa, is intrigued by some of the new products Newton's company brings to the market, and already suspects Newton of being an alien. As Bryce and the FBI close in, Newton finds his own clarity and sense of purpose diminishing.

You can purchase The Man Who Fell to Earth
now and receive a 40% discount.


---

OLDER NEWS

September | August
July | June | May | April | March | February | January
2008 Bowie News Archives | 2007 Bowie News Archives | 2006 Bowie News Archives
2005 Bowie News Archives | 2004 Bowie News Archives | 2003 Bowie News Archives
2002 Bowie News Archives | 2001 Bowie News Archives | 2000 Bowie News Archives
1999 Bowie News Archives | 1998 Bowie News Archives | 1997 Bowie News Archives