WHAT'S REALLY HAPPENING IN NOVEMBER - MONTHLY PLANNER

[BOWIEWONDERWORLD SHOP] [LATEST DAVID BOWIE ITEMS ON eBAY]

[@bowiewonderworld.com email addresses HERE]

Have YOU got some DAVID BOWIE related news or a hot scoop?
Well don't just sit there keeping it to yourself - send it in to
All news items are credited if you so wish



---
NEW GERMAN BOWIE BOOK PUBLISHED
20th November 2008

HELDEN: DAVID BOWIE UND BERLIN is the title of a brand new book just published in Germany by Rogner & Bernhard (ISBN-10: 3807710310).


Author Tobias Rüther covers the time period that Bowie spent in Berlin in the late Seventies.

Tobias says: "I didn't want to write a classic biography or pop-music book. I wanted to shed a bit of light on the figure of Bowie with all the references and things that he was influenced by during his time in Berlin. I wanted to put him back in the world of the 1970s. I didn't want to write a book just for pop fans. I wanted to show Bowie for what he is - an absolutely radical pop artist. I didn't want to depict him as someone who could be explained solely by his pop music. He remains a mystery to me - even after writing 220 pages about him."

Tobias is interviewed by Jefferson Chase - you can read the complete interview here on the dw-world.de website.


---
GUY PEELLAERT - REST IN PEACE
19th November 2008

Belgian pop artist GUY PEELLAERT, whose work includes album covers for DAVID BOWIE and The Rolling Stones and posters for films such as 'Taxi Driver', has died, his agent said Wednesday.

Peellaert died on Monday in Paris aged 74 after a long illness, Noemie Mainguet said.



Guy painted the fabulous artwork for David's 'Diamond Dogs' album and the Mainman promotional posters, as well as the 'Bowie At The Beeb' release in 2000.

As you can see David is depicted as a naked half-man, half-dog described as an 'alive strangest living curiosity' in a post-apocalyptic circus-side freakshow. After the first initial printing of the album sleeve, RCA executives were worried that the neither regions on show would cause the album to be banned in American record stores so they decided on censorship and Bowie was emasculated courtesy of an airbrush.

A few years back Q magazine interviewed both Bowie and Peellaert about their memories of the Diamond Dogs cover...

"The only problem with the project is that they removed the prick," Peellaert commented. "I thought it was very sad."



The Brussels-born artist, whose work has been featured in major exhibitions in various cities across the world, was one of the first cartoonists to embrace the Pop Art movement that began in the late 1950s.

In 1972, he provided the surreal pictures for the book Rock Dreams, written by Nik Cohn, a fantasy tribute to the greats of rock and roll music.

Further reading and information on Diamond Dogs Rule OK

From AFP.


---
D&I OUT ON THE TOWN
14th November 2008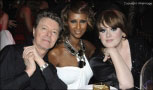 DAVID BOWIE and IMAN were in attendance at the 5th KEEP A CHILD ALIVE Black Ball Charity Event at the Hammerstein Ballroom, in New York City last night.

Iman co-hosted with Alica Keys and Padma Lakshmi. Honorees like Simon Fuller and Queen Latifah enjoyed performances by Justin Timberlake, Chris Daughtry, Adele, and Emmanuel Jalq.

David and Iman were joined by English songstress Adele at their table.

Other guests included: Jessica Alba, Justin Timberlake, John Mayer, Tyra Banks, Michelle Williams, Clive Davis, Elijah Wood, Timbaland, Swizz Beatz, Stacey London, Zoe Kravitz and Liya Kebede.

Other links:
The Sun
Hello!
x17online.com

Bowie photographs from the event:
WireImage #1
WireImage #2
Rex Features


---
AND THE BITS FLEW FAR AND WIDE...
14th November 2008

• DAVID BOWIE's legendary 'The 1980 Floor Show' filmed at The Marquee in London in October 1973 is to be shown at Floating World Comics, 20 N.W. Fifth Avenue, Portland, Oregon 97209, USA on Wednesday 19th November at 8pm...

• Sad news to report the passing away of DEREK FEARNLEY on 1st November aged sixty-nine years old. 'Dek' was the bass player with DAVID BOWIE's backing band The Buzz in 1966 and the next year he was also involved in David's first solo album release on Deram...


---
NATASHA KORNILOF - REST IN PEACE
12th November 2008
Very sad news to report the passing away of NATASHA L. KORNILOF in Blackheath, London on Tuesday 4th November.
Natasha designed and made many of the stage clothes for DAVID BOWIE shows throughout his career.
Natasha created the dancing spiders outfits for the Rainbow Theatre concerts in August 1972 and the dancers costumers for The 1980 Floor Show in October 1973. She was also responsible for David's outfits on his 1978 world tour including the 'Sailor look' complete with the baggy white pants. Later on she created the Pierrot/Clown costume for Scary Monsters which also famously featured in his Ashes To Ashes video.
David met Natasha whilst they were both involved with the Lindsay Kemp Theatre Group in late 1967, just after she had finished working on the little-known sci-fi pilot for a TV series by ABC Films entitled The Solarnauts. She was also the costume and wardrobe department for the 1976 movie Hamlet that starred Quentin Crisp, Helen Mirren, Tony Meyer, David Meyes and Barry Stanton.
The Ashburnham Triangle Association reported that Natasha was born in India to a Russian father. She grew up in India and in pre-independence Rhodesia, before coming to London to become an outstanding theatrical costume designer.
She was even more inspiring as a teacher, and her students stayed in touch for years. Natasha was passionate and remarkably knowledgeable about the history of her neighbourhood, and was well launched on a second career as a London guide in the years before her death.
Her house in Egerton Drive stood out for the imaginative way she had converted it in the 1970s, the number of cats she kept in it, and the sun-burst of her watercolours on every inch of the walls. But most unforgettable was Natasha's welcome to friends and neighbours, as she dazzled us with her encylopaedic knowledge, and amazed us with often-pointed anecdotes from her adventurous life.
In her will, Natasha requested that her body be left for medical research, so there was no funeral.
---
MoMA SHOWCASES BOWIE EARLY VIDEOS
3rd November 2008

Coming up on the first of next month is 'Modern Mondays', at the New York's Museum of Modern Art with their Monday night screening series of new works by contemporary film makers and multimedia artists.

'Early music videos by DAVID BOWIE, introduced by Thurston Moore' takes place on 1st December at 7pm in Theater 1 (The Roy and Niuta Titus Theater 1), T1.

A screening of music videos of the innovative musician, actor, and producer David Bowie is held on the occasion of the recent gift from the David Bowie Archive of music videos to the museum. For several of his videos, Bowie collaborated with the photographer and film maker Mick Rock, best known for his images of 1970s glam-rock icons such as Iggy Pop, Queen, The Ramones, Lou Reed and The Sex Pistols.

Thurston Moore, of the 'no wave' band Sonic Youth introduces and emcees the programme, which takes place in conjunction with Looking at Music, an exhibition by curator Barbara London that explores music's role in the interdisciplinary experimentation of the 1960s, when a dynamic crossfertilisation was taking place among music, video, installation, and what was known as 'mixed media' art.

Looking at Music is on view in the Museum's Yoshiko and Akio Morita Gallery through to 5th January 2009. Organised by Barbara London.

More details and ticket information can be found at moma.org website.


---
BIZARRO BOWIE CHRISTMAS SPECIAL
3rd November 2008

In Chicago this month on Friday 21st November, the holiday season kicks into high gear when the greatest Christmas Special that never was is recreated for the stage by the New Millennium Theatre Company: 'The DAVID BOWIE Hepzikat Funky Velvet Flarney Solstice Spectacular, Live... From Space!' (Or David Bowie's Christmas Special 1977 for short!).

Starring the character of David Bowie, this one of kind variety show spectacular snatched from the archives of 1977 brings the kind of star power that only 'Ziggy Stardust' could command. Featuring character appearances by Mick Jagger, Annie Lennox, Iggy Pop, Marianne Faithfull, Nipsey Russell, Charo, and more, plus a special appearance by the Ghost of Freddy Mercury.

Audience members will be taken on an exciting journey of song and dance reminding us all of the joys of brotherhood and giving that the holiday season brings. But when the mysterious Bizarro Bowie appears to reveal his scattered past, it's a race for time to save the holidays from the ultimate universal implosion, but with this many celebrities, what could possibly go wrong?

'The David Bowie Hepzikat Funky Velvet Flarney Solstice Spectacular, Live... From Space!' runs Friday and Saturday nights at 10:30 pm, November 21st through December 27th at the National Pastime Theater, 4139 N. Broadway in Chicago, IL 60614.

Advance tickets are $15 and can be purchased at nmtchicago.org or reserved by calling 312-458-9083.


---
AND THE BITS FLEW AND AND WIDE...
1st November 2008

• Expect to see a few more new DAVID BOWIE items in the WHATEVERITTAKES line of charity goods in the near future. Available for purchase soon will be a David Bowie canvas tote bag in the 'Bags For Life' section (Bag measures approximately 16 x 16.5) and there will also be a wallet made from cotton canvas, pleather and nylon long wallet with 12 credit card slots, ID window, 4 dollar bill or cheque book slots, zippered coin pouch and snap closure. Wallet measures 7" x 3.5" x .5" when closed - both items feature David's own original artwork. Please visit whateverittakes.org and see what other Bowie items are still available for this very worthwhile charity cause...

• The News Of The World reports that MICK JAGGER is planning a 'supergroup' of stars to perform at the opening ceremony of the 2012 Olympic Games in London. Apparently DAVID BOWIE is already involved. Mick wants his band to be joined on stage by David Bowie, Van Morrison and Led Zeppelin's Jimmy Page. It is also expected that Phil Collins, Elton John, Sting and Pink Floyd's Dave Gilmour will be approached. A source close to the band explained: "Mick feels the Olympics coming to London is a huge honour - and wants to make his own gesture with the band. It's early stages but Page, Bowie and Morrison are already involved, although no one is quite sure yet how the show will play out in its entirety. "The Olympics people hope to use the template of the American football Super Bowl half-time show, where an artist takes over the field on a giant stage. "Having the Stones on side for a project like this is a huge deal."...


---
THE RETURN OF ECHO BOWIE
1st November 2008

After a year-long break ECHO BOWIE are about to enter the stage again. Lots of you will know the Dutch band from their gigs at the annual DAVID BOWIE meetings in Holland.

Since the last time they played there - an acoustic gig featuring songs like 'Kooks', 'Bus Stop' and 'Andy Warhol' - the band have two great new members on board on keyboards and bass.

That, AND the addition of some very cool songs (we won't mention them yet of course...) are good reasons to check EchoBowie out again.

Of course it will be great to hear songs like 'Always Crashing In The Same Car', 'Queen Bitch' and 'Breaking Glass' again.

Here's the upcoming gigs list below:

Sunday November 2nd
Le Vagebond
Nieuwe Binnenweg 99, Rotterdam, Netherlands
Playtime: 20.30 (CET)

Saturday November 8th
Café van der Geest
Zeestraat 7a, Noordwijkerhout, Netherlands
Playtime: 21.30 (CET)

Friday December 12th
Toomler
Breitnerstraat 2, Amsterdam, Netherlands
Playtime: 23.00 (CET)
Tip: check out the stand-up comedy shows starting at 20.00 before the Echo Bowie gig later that evening

Check out youtube.com/schlatman for videos and news.

From Hans


---
FUNKY LITTLE BOAT RACE
1st November 2008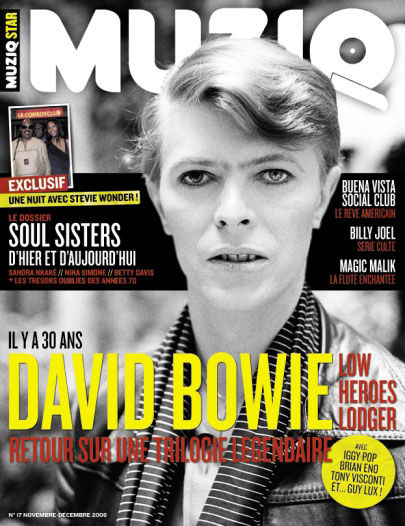 French MUZIQ magazine Issue 17 (November issue) went on sale on Saturday 25th October and contains a special 10 page feature and front cover features DAVID BOWIE with his collaborators Tony Visconti, Iggy Pop, Carlos Alomar and many more covering the studio recordings of 'Low', "Heroes", 'Lodger' and Iggy Pop's 'The Idiot' and 'Lust For Life'.

The magazine includes some never before published pictures of David Bowie, Robert Fripp and Iggy Pop.

Check out muziq.fr for more details and information.

From Philippe Auliac (Photographer and Film Director).


---

OLDER NEWS

October | September | August | July
June | May | April | March | February | January
2007 Bowie News Archives | 2006 Bowie News Archives
2005 Bowie News Archives | 2004 Bowie News Archives
2003 Bowie News Archives | 2002 Bowie News Archives
2001 Bowie News Archives | 2000 Bowie News Archives
1999 Bowie News Archives | 1998 Bowie News Archives






| | |
| --- | --- |
| Created: November 2008 © Paul Kinder | Last Updated: 30/11/08 |