BOWIE TV and WHAT'S REALLY HAPPENING IN NOVEMBER - MONTHLY PLANNER

[BOWIEWONDERWORLD SHOP] [LATEST DAVID BOWIE ITEMS ON eBAY]
[@bowiewonderworld.com email addresses HERE]
Have YOU got some DAVID BOWIE related news or a hot scoop?
Well don't just sit there keeping it to yourself - send it in to
All news items are credited if you so wish
---
THE JEAN GENIE TOTP FOUND!
28th November 2011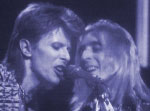 DAVID BOWIE's live performance of 'The Jean Genie' on Top Of The Pops from 4th January 1973 has been found!
You may recall the original discovery was published on here back in December 1999 and then followed up the next month with more details from someone who actually recalled the performance.
As you know, the BBC wiped the tape, but a young cameraman named John Henshall working on the show made a recording and happened to mention he had a copy during an interview on the Johnnie Walker's Sounds of the Seventies on BBC Radio 2 the other month.
Ray Langstone got in contact with John and then posted on Missing Episodes Forum the information below:
John Henshall: 'First I went with Richard Turley, a producer from the BBC, to Westpoint Television, a company which specialises in playing and copying very old broadcast video tapes. It was an amazing spine-tingling experience when David Bowie performing 'The Jean Genie' live on 'Top of the Pops' in January 1973 came up on screen in superb broadcast quality. It was the first time the tape has been played for over 38 years. It is 'rarer than rare' to quote Ray Langstone, who heard me mention that I have the recording when I was on BBC Radio 2's 'v' a couple of months ago. It seems that people have been searching for this recording, on which Bowie played live, for years without success. Until now! The BBC wiped their tape after the original broadcast and there is no other version. Why do I have it? Well I was a young cameraman at the time and used one of my Telefex Fisheye lenses on my camera. I'm even in shot myself! So I went down to VTR and asked them to make me a copy on 2-inch broadcast videotape. No VHS in those days. The picture shows Richard Turley and David Dean transcribing the tape at Westpoint Television this week.'
Apparently David is aware of the discovery, as are the BBC. Let's hope we all get to see it in the not too distant future.
---
HEROES: THE MUSICAL
27th November 2011
Update: Official Statement:
Neither the David Bowie Organisation, nor its co-publishers EMI Music and Chrysalis, has issued a license for this performance at the O2. There are no negotiations pending for a long running musical featuring the music of Mr. Bowie. - [from BowieNet].
DAVID BOWIE has given permission for the first full-scale musical based on his songs, but "just for one day".
The futuristic fantasy Heroes: The Musical will tell the story of Major Tom, the "Starman" and a young dude named "David". The villains of the story are the patrolling Diamond Dogs and the "Smart Simon" who has created and now controls a dystopian empire.
The world premiere will take place at the IndigO2 venue, inside the former Millennium Dome on Sunday 11th March 2012.
DEEP SINGH who wrote the musical along with Carl Wilks, wasn't expecting David to give his permission. A surprised Singh, believes that David gave his consent because he emphasised that his story was not a 70s nostalgic recreation, but was set in the future and aimed to show the timeless relevance of David's lyrics.
There will be one major showcase performance in aid of arts and community charities, with all proceeds going to The Orpheus Centre, Albert and Friends Instant Circus and Youth Music Theatre UK, that use the performing arts to help underprivileged and disabled young people to learn new skills.
The director and choreographer is Matthew Gould who says that Heroes will use a cast of more than 30 performers accompanied by a live band and will feature around 20 songs.
Further reading:
The Guardian: David Bowie says yes to futuristic musical based on his hits by Vanessa Thorpe - [Read here]
The Telegraph: David Bowie agrees for his songs to be used in Heroes musical - [Read here]
Update: 29th Nov: Julian Stockton at The Outside Organisation confirmed today: "That statement put out by me at the weekend still stands, there has been no change." When asked about the phrase "long-running" doesn't actually rule out a one-off show, and asked "Are negotiations pending for a one-off musical?" he replied: "To the best of my knowledge no there are not."
---
'SPEED OF LIFE - DAVID BOWIE 65'
25th November 2011
'Speed of Life - David Bowie 65' - International David Bowie Fanclub THE VOYEUR and David Bowie tribute band ECHO BOWIE also known as 'the next best thing to David Bowie' invite you to celebrate David Bowie's 65th birthday in The Netherlands.
On January 7th 2012 at 8.00 pm. Rocktemple P60 (Amstelveen, The Netherlands) will open its doors for THE David Bowie birthday party.
Special guest of the evening is DJ TVQueenBitch (dressed in drag) will start the party with an amazing David Bowie set.
David Bowie tribute band 'Echo Bowie' enters the Bowie-P60 stage at 9.30 pm.
Under the slogan 'Speed of Life - David Bowie 65' Echo Bowie plays Bowie hits, classics and fan favourites from throughout Bowie's entire career. From Space Oddity (1969) to "Heroes" (1977), and China Girl (1983) to New Killer Star (2003). Part of the performance will be a unique acoustic set.
At 12.00 am we toast at David Bowie's 65th birthday!
After celebrating Echo Bowie will return to the stage for another amazing live performance.
For more information please visit P60.nl.
Tickets (on sale now) for this event can be bought in an easy and secure way online using Paylogic.
From Peter Smit - International David Bowie Fanclub.
---
THE LONDON BOYS
24th November 2011

Check out some previously unseen movie footage shot in Denmark Street, London in 1965 which just happens to feature DAVY JONES by complete accident.

The footage shows David leaving Central Sound Studio and walking into the La Gioconda coffee bar.

JoeSalama posted this up this amazing footage up on YouTube today which was shot by his father... his blurb states:

'This exceptional cine footage was taken by my late father on a trip up to the west end of London totally unaware that David Bowie was the young dude that smiles graciously at the camera. Even when I showed him what he had filmed he was none the wiser and couldn't remember why he focussed on this particular chap. The face fleetingly seen behind Bowie is that of my mother. Roughly dated to 1968.'






---
DB ON ROCK FIRST COVER
22nd November 2011

As you can see DAVID BOWIE appears on the front cover of the new French magazine ROCK FIRST for their current November 2011 issue.
For this issue #3 the cover blurb states: Bowie Naissance d'un Mythe (Birth of a Myth).
Inside features a whole sixteen pages worth of David Bowie covering his career from 1969 through to 1972 - from Space Oddity to Ziggy Stardust.
More details on this new magazine can be found over at facebook.com/rockfirstmagazine
---
KEEP YOUR 'LECTRIC EYE ON EBAY
20th November 2011


Well I did a double-take when I first spotted this DAVID BOWIE item on eBay yesterday.
For the record, this picture sleeve is not a genuine item, or even a re-release item.
It's a hand-made mock up simply to imitate the style of Sixties EP picture sleeves.
The dealer has mocked up the Davy Jones and The Lower Third 1965 Parlophone R 5315 release You've Got A Habit Of Leaving.
No vinyl is included, it's just the mocked-up sleeve.
Update: This fake picture sleeve sold for £67.01 GBP and had 13 bidders - WTF! I'm flabbergasted.
---
AND THE BITS FLEW FAR AND WIDE...
18th November 2011
• Up for grabs at Morphy Auctions in Denver, PA, USA is a DAVID BOWIE colour slick of his Station To Station LP, printed by Queens Litho in New York. The auction takes place on December 8th through to December 10th at 9am. Bidding starts at 150 USD, with an estimate at $700-$1,000. Lot #927 in the Toys and Advertising Auction - [View here]...
• Long-time fan DAVID PRIEST is planning to organise his 6th DAVID BOWIE Convention in Bedford, England early in 2012. At the moment he is looking at maybe March or early April. There will be video footage, Bowie music, two live performances, and more.... it's still early days. Tickets will probably be around £15 each. Mail Order Only and not available at the venue. More details to follow...
• W New York-Downtown are to host an installation of iconic, never-before-exhibited images by legendary photographer MICK ROCK. The exhibit will feature his images of DAVID BOWIE, Iggy Pop and Debbie Harry, as well as rare candids of others. The exhibition takes place from December 8th through to December 28th...
• Photographer LESLIE LYONS has created a portfolio of photographs inspired by the DAVID BOWIE song 'Who Can I Be Now?' The artist investigates the effects of her return to her childhood home - [View here]...
---
'NAT TATE' ARTWORK AT SOTHEBY'S
16th November 2011

You might recall the NAT TATE April Fool's Day joke that WILLIAM BOYD and DAVID BOWIE concocted back in 1998.
Well today a drawing by the fake artist entitled 'Bridge No. 114', is up for auction and is expected to realise somewhere between £3,000 and £5,000 GBP in the sale.
Nathwell Tate was the creation of novelist William Boyd, who invented the character to trick the art world. Boyd wrote a fictional biography of the artist in 1998 and is said to have come up with the name as a combination of the National and Tate galleries.
On David Jones' thirteenth birthday, Nate contrived to round up and burn almost his entire output of Abstract Expressionism. Then four days later on 12th January 1960 he killed himself.
The story, Nat Tate: An American Artist: 1928-1960, was the second book from David Bowie's publishing house 21 PUBLISHING and was launched on April Fool's Day at artist Jeff Koon's New York studio.

"All I was trying to show was how something fictitious could be as real as something real," said Boyd. The writer recalled how a few people at the launch were in on the hoax. They included Bowie, who read extracts from the book. One of the other conspirators asked the guests leading questions about the fictional artist.
Afraid of not knowing who he was, many told anecdotes about meeting him and said how sad they were about his premature death. Days after the launch, the story was revealed as a hoax that had been conceived down to the tiniest detail.
The proceeds from today's sale in the Modern and Post-War British Art auction (lot 214) at Sotheby's in London will go directly to the Artists' General Benevolent Institution.
Boyd said he created a "benign Frankenstein's monster" when he conceived the hoax. "I'm being run by my fictional creation and I hope to bring some kind of closure." he stated.
Update: The price realised was a very impressive £7,250 GBP.
---
AND THE BITS FLEW FAR AND WIDE...
13th November 2011
• Next year the ROBERT GLASPER EXPERIMENT will release their version of the DAVID BOWIE song 'Letter To Hermione'. The track will appear on their new album 'Black Radio' which is scheduled for release next year on 28th February 2011 on Blue Note Records. Also guest appearing with the band on this specific song is Bilal - [More details]...
• Next month on Saturday 10th December is BOWIE NIGHT in Manchester city centre at the Night and Day Cafe situated at 26 Oldham Street. The 'Where's Bowie?' event starts at 8:00pm until 2:00am. Admission £4 which goes to the MIND charity - [More details]...
---
ROBERT FRIPP'S DIARY
11th November 2011
Update: Apparently his diary entry was a dream! LOL.
You may be all interested to read one of ROBERT FRIPP'S online diary entries from last month...
Saturday, 15th October 2011
09.15 Bredonborough. Rising from traveling adventures, in 'planes and cars. Dropping off along to way to visit DAVID BOWIE, and it gradually appeared that David had some remarkable new ideas in process, not yet public. These he presented indirectly, to allow the penny to drop without prompting. ENO also got involved, and what a flowering of ideas!
You can read his online diary over at dgmlive.com
Thanks to Reinhold for the pointer.
---
UNIVERSAL and SONY REACH DEALS FOR EMI?
11th November 2011
UNIVERSAL MUSIC are all set to announce that they have concluded a deal to purchase the recorded music division of EMI for £1.2 billion, according to reports today.
The Guardian claim that Universal beat the supposed favourites to wrap up the deal, Warner Music, and will soon be the owners of EMI's recorded music division.
They also suggest that the sale will be just the first stage in the break-up of EMI. In particular, a consortium led by rivals SONY are thought to be close to finalising a deal to buy its music publishing division for $2.2 billion. Universal, meanwhile, will now account for a third of all music sales worldwide.
It was announced back in June that US bank Citigroup, who took control of the label in March this year, wanted to put EMI up for sale.
Earlier this week on Monday, The Financial Times reported that DAVID BOWIE was on the verge of leaving EMI, with both Universal Music and Sony Music thought to be in talks to sign him when his 15-year association with the label comes to an end in January 2012.
---
THE BALLAD OF MOTT THE HOOPLE
10th November 2011

The long-awaited MOTT THE HOOPLE documentary The Ballad Of Mott The Hoople
has now been released on DVD in the UK by Start Productions, with a USA release next week on 14th November.
The feature length documentary, created with the full cooperation of the band and three years in the making was directed by Chris Hall and Mike Kerry.
The film tells the tale of this most humble of rock 'n' roll groups through a stunning combination of rare and unseen archive footage.
Some of the unseen archive footage features DAVID BOWIE introducing the band at the Tower Theatre in Philadelphia on 29th November 1972. Besides the intro, you can also see David performing backing vocals on 'All The Young Dudes'.
In 1972 Mott The Hoople weren't particularly well known in the USA, so on Tony Defries recommendation the band performed there and MainMan agreed to cover all expenses and allowed the Tower to bill the show as 'David Bowie Presents' and have him personally introduce the act. Apparently David missed the train to Philadelphia and had to travel seven hours by cab to make the show!
There are plenty of DVD extras and bonuses, two in particular are Leee Black Childers talking about the epic journey to get the band to Memphis for the gig at the Ellis Auditorium - 3 days before Christmas and Seadivers Chairman (the Mott The Hoople fan club) Kris Needs talking about his early years watching Mott The Hoople and David Bowie playing his hometown of Aylesbury.
The DVD also contains a twelve-page booklet with sleeve notes by Morrissey and a limited edition five-set of postcards.
You can purchase The Ballad Of Mott The Hoople [DVD] [2011]
now.
(Ed. David also sang backing vocals on 'Honky Tonk Women' at the Tower Theatre but I'm not sure if this features on the DVD as it did on All The Way From Stockholm To Philadelphia 2-CD set).
Thanks to Neil for the heads up.
---
THE HORRORS COVER BOWIE
10th November 2011
English post-punk revival band THE HORRORS have recorded a rather fab version of DAVID BOWIE's 1972 track 'Suffragette City'.
The song was created for Channel 4's 'On Track' TV programme (series 2, episode 7) which was shown last night. The song is live take but it was recorded in LDN's Metropolis Studios.
---
AND THE BITS FLEW FAR AND WIDE...
10th November 2011
• Happy Birthday wishes to former DAVID BOWIE manager KEN PITT who is eighty-nine years young today. Many happy returns of the day...
• New Jersey band THE STATIC JACKS chat about their DAVID BOWIE influence in a recent interview... 'David Bowie is a genius. We all really love all eras of Bowie. I think it's because he comes from a time where pop music was actually interesting and he was especially brilliant. I've been listening to a lot from his '84 album Tonight. 'Blue Jean' is a terrific song!'. You can read the whole interview over at blackbookmag.com...
• Someone keeps informing me there is a DAVID BOWIE week coming up in the current UK ITV show THE X FACTOR whereby each of the contestants gets to perform a Bowie song. Don't take this as gospel just yet it, but it might stop this person emailing me every two hours!...
• A DAVID BOWIE documentary is being broadcast on the Biography Channel in Germany next Monday and Tuesday (13th and 14th). There are four showings at various times of the two days. See the BW monthly planner for details...
• There is a DAVID BOWIE night taking place at at the Night and Day Cafe on Oxford Road, Manchester, England on 10th December...
• ALFIE BOE currently doing Les Mis in the West End of London wants to collaborate with DAVID BOWIE on his next album - [Read here]...
---
BOWIE LOOKS TO EMI EXIT
7th November 2011
The Financial Times are reporting that DAVID BOWIE is poised to walk away from EMI, after a 15-year relationship in which the record label held the rights to the bulk of his back catalogue.
Salamander Davoudi, Media Correspondent for the FT states that Bowie's contract with the UK label comes to an end in January, is in talks with both Universal Music and Sony Music.
A final decision has not yet been made and Mr Bowie could decide to go it alone.
You can read the whole article over at the ft.com website, but you'll need to sign up to get free access.
---
DAVID OUT AND ABOUT
7th November 2011
DAVID BOWIE was spotted by a paparazzi while he was out and about in New York City last Friday afternoon on 4th November.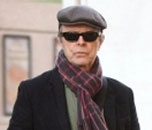 As you can see he is wrapped up for the Autumn weather, looking rather dapper sporting shades, flat cap and a red checked scarf.
---
LOVE IN A DOORWAY
5th November 2011
Check out this doorway in Yaletown, Vancouver in Canada, which as you can see features DAVID BOWIE's iconic Aladdin Sane character adorning their entrance.
Someone sent in this image a while back, along with the one-line message of 'Bowie in Yaletown'.
So armed with just that snippet of info I decided to attempt to track it down.
After an hour of searching Yaletown on Google Street Maps - it just HAD to be on Davie Street didn't it. After enlarging and mirror imaging the photo there was Iris Opticians in the window's reflection.
It turns out that this was entrance to the Elixir Bar Restaurant at 322 Davie Street, linked with the Opus Hotel next door.
Alias the restaurant on Davie Street has now closed down and has been taken over by a new Italian restaurant named Cento Notti which opened in September of this year... and now the reversed mural of 'the lad' is nowhere to be seen.
Photo © Evan Moss.
---
DON'T BELIEVE THE HYPE
3rd November 2011
More nonsense has been posted up on the FAKE DAVID BOWIE Twitter account on Tuesday and Wednesday...
2nd November: 'Back into the studio we go! (January) Great to be working with Lou again on 'More Than Meets The I' . We're both on cloud 9!'
1st November: 'Just when I wanted to call it quits there goes Lou Reed inspiring the hell out of me!'
David Bowie DOES NOT have a Twitter account.
---
AND THE BITS FLEW FAR AND WIDE...
1st November 2011
• Check out some photographs of DAVID BOWIE and his backing band taken by Michael Leach at the Centre Coliseum in Seattle, Washington. These were shot at the second show of the 1976 World Tour, well before David had his slicked back hair and the stage band were named Raw Moon - [view here]...
• Raconteur and solo artist BRENDAN BENSON has recorded his version of DAVID BOWIE's 'Candidate' which is available to download here for free via americansongwriter.com website. Check out his official website...
• English band FILMS OF COLOUR have recorded a cover version of 'Slow Burn' by DAVID BOWIE. The track is released next month on 12th December. In the meantime you can download and watch their video for free at filmsofcolour.com and via Facebook Like...
• LEONA LEWIS has once again namedropped DAVID BOWIE in an interview stating that she wants to record a duet with him - [Read here]...
---
DAVID BOWIE WONDERWORLD NEWS ARCHIVE
October | September | August | July
June | May | April | March | February | January
2010 Bowie News | 2009 Bowie News
2008 Bowie News | 2007 Bowie News | 2006 Bowie News | 2005 Bowie News
2004 Bowie News | 2003 Bowie News | 2002 Bowie News | 2001 Bowie News
2000 Bowie News | 1999 Bowie News | 1998 Bowie News | 1997 Bowie News






| | |
| --- | --- |
| Created: November 2011 © Paul Kinder | Last Updated: 30/11/11 |