WHAT'S REALLY HAPPENING IN JUNE - MONTHLY PLANNER

[BOWIEWONDERWORLD SHOP] [LATEST DAVID BOWIE ITEMS ON eBAY]
[@bowiewonderworld.com email addresses HERE]
Have YOU got some DAVID BOWIE related news or a hot scoop?
Well don't just sit there keeping it to yourself - send it in to
All news items are credited if you so wish
---
AND THE BITS FLEW FAR AND WIDE...
29th June 2014
• Published in today's OBSERVER is an interview with IMAN entitled: 'I am the face of a refugee'. She talks to Carole Cadwalladr about racism in modelling - and a secret holiday in London with her husband, DAVID BOWIE - [Read here]...
• In today's SUNDAY EXPRESS check out an article 'The Thin White Doc: New Doctor Who based on DAVID BOWIE'. Every new Doctor Who puts a unique spin on the character - and Peter Capaldi is no exception - [Read here]...
• Published in THE GUARDIAN is 'DAVID BOWIE: stage oddity'... which reviews the current David Bowie exhibition in Berlin - [Read here]...
---
DAY IN, DAY OUT...
29th June 2014

On this day, 6 years ago, DAVID BOWIE released the iSelect free compilation CD from THE MAIL ON SUNDAY newspaper.
In the liner notes, David Bowie comments on each of the twelve tracks he selected for the album. It makes fascinating reading...
David Bowie: 'For this CD compilation I've selected 12 of my songs that I don't seem to tire of. Few of them are well known, but many of them are still sung at my concerts. Usually by me. I'll start off with the hit.'
Life On Mars?
This song was so easy. Being young was easy. A really beautiful day in the park, sitting on the steps of the bandstand. 'Sailors bap-bap-bap-bap-baaa-bap.' An anomic (not a 'gnomic') heroine. Middle-class ecstasy.
I took a walk to Beckenham High Street to catch a bus to Lewisham to buy shoes and shirts but couldn't get the riff out of my head. Jumped off two stops into the ride and more or less loped back to the house up on Southend Road.
Workspace was a big empty room with a chaise longue; a bargain-price art nouveau screen ('William Morris,' so I told anyone who asked); a huge overflowing freestanding ashtray and a grand piano. Little else.
I started working it out on the piano and had the whole lyric and melody finished by late afternoon. Nice.
Rick Wakeman came over a couple of weeks later and embellished the piano part and guitarist Mick Ronson created one of his first and best string parts for this song which now has become something of a fixture in my live shows.
Sweet Thing/Candidate/Sweet Thing.
I'd failed to obtain the theatrical rights from George Orwell's widow for the book 1984 and having written three or more songs for it already, I did a fast about-face and recobbled the idea into Diamond Dogs: teen punks on rusty skates living on the roofs of the dystopian Hunger City; a post-apocalyptic landscape.
A centrepiece for this would-be stage production was to be Sweet Thing/Candidate/Sweet Thing, which I wrote using William Burroughs's cut-up method.
You write down a paragraph or two describing several different subjects creating a kind of story ingredients-list, I suppose, and then cut the sentences into four or five-word sections; mix 'em up and reconnect them.
You can get some pretty interesting idea combinations like this. You can use them as is or, if you have a craven need to not lose control, bounce off these ideas and write whole new sections.
I was looking to create a profligate world that could have been inhabited by characters from Kurt Weill or John Rechy - that sort of atmosphere. A bridge between Enid Blyton's Beckenham and The Velvet Underground's New York. Without Noddy, though.
I thought it evocative to wander between the melodramatic Sweet Thing croon into the dirty sound of Candidate and back again. For no clear reason (what's new?) I stopped singing this song around the mid-Seventies.
Though I've never had the patience or discipline to get down to finishing a musical theatre idea other than the rock shows I'm known for, I know what I'd try to produce if I did.
I've never been keen on traditional musicals. I find it awfully hard to suspend my disbelief when dialogue is suddenly song. I suppose one of the few people who can make this work is Stephen Sondheim with works such as Assassins.
I much prefer through-sung pieces where there is little if any dialogue at all. Sweeney Todd is a good example, of course. Peter Grimes and The Turn Of The Screw, both operas by Benjamin Britten, and The Rise And Fall Of The City Of Mahagonny by Weill. How fantastic to be able to create something like that.
The Bewlay Brothers.
The only pipe I have ever smoked was a cheap Bewlay. It was a common item in the late Sixties and for this song I used Bewlay as a cognomen - in place of my own. This wasn't just a song about brotherhood so I didn't want to misrepresent it by using my true name.
Having said that, I wouldn't know how to interpret the lyric of this song other than suggesting that there are layers of ghosts within it. It's a palimpsest, then.
The circumstances of the recording barely exist in my memory. It was late, I know that. I was on my own with my producer Ken Scott; the other musicians having gone for the night.
Unlike the rest of the Hunky Dory album, which I had written before the studio had been booked, this song was an unwritten piece that I felt had to be recorded instantaneously.
I had a whole wad of words that I had been writing all day. I had felt distanced and unsteady all evening, something settling in my mind. It's possible that I may have smoked something in my Bewlay pipe. I distinctly remember a sense of emotional invasion.
I do believe that we finished the whole thing on that one night. It's likely that I ended up drinking at the Sombrero in Kensington High Street or possibly Wardour Street's crumbling La Chasse. Cool.
Lady Grinning Soul.
Mike Garson's piano opens with the most ridiculous and spot-on re-creation of a 19th Century music hall 'exotic' number. I can see now the 'poses plastiques' as if through a smoke-filled bar. Fans, castanets and lots of Spanish black lace and little else. Sexy, mmm? And for you, Madam?
This was written for a wonderful young girl whom I've not seen for more than 30 years. When I hear this song she's still in her 20s, of course.
A song will put you tantalisingly close to the past, so close that you can almost reach out and touch it. The sound of ghosts again.
Win.
This is not, you may be speechless to learn, an ode to Winifred Atwell, though I almost wish it were for she was a real winner. In the Fifties in England it was virtually impossible for a ten-year-old to hear boogiewoogies and rags unless our Winifred was playing them on her 'other' piano.
At home in Trinidad she'd been brought up with blues and R&B and had played it for the American GIs who were based at what is now the main airport. Winnie was the first black artist in Britain to sell one million records. She was tops.
No, this song is about, er, winning. David Sanborn is on sax. He was experimenting with sound effects at the time and I'd rather hoped he would push further into that area, but he chose to become rich and famous instead. So he did win really, didn't he?
Some Are.
A quiet little piece Brian Eno and I wrote in the Seventies. The cries of wolves in the background are sounds that you might not pick up on immediately. Unless you're a wolf. They're almost human, both beautiful and creepy.
Images of the failed Napoleonic force stumbling back through Smolensk. Finding the unburied corpses of their comrades left from their original advance on Moscow. Or possibly a snowman with a carrot for a nose; a crumpled Crystal Palace Football Club admission ticket at his feet. A Weltschmerz [world weariness] indeed. Send in your own images, children, and we'll show the best of them next week.
Teenage Wildlife.
So it's late morning and I'm thinking: 'New song and a fresh approach. I know, I'm going to do a Ronnie Spector. Oh yes I am. Ersatz, just for one day.'
And I did and here it is. Bless. I'm still enamoured of this song and would give you two Modern Loves for it any time. It's also one that I find fulfilling to sing onstage. It has some nice interesting sections to it that can trip you up, always a good kind of obstacle to contend with live.
Ironically, the lyric is something about taking a short view of life, not looking too far ahead and not predicting the oncoming hard knocks. The lyric might have been a note to a younger brother or my own adolescent self.
The guitars on this track form a splintery little duel between the great Robert Fripp and my long-time friend Carlos Alomar.
Repetition.
By virtue of the instrument's classical baggage, Simon House's violin touches a vein of pure Goth on this recording. There's a numbness to the whole rhythm section that I try to duplicate with a deadpan vocal, as though I'm reading a report rather than witnessing the event. I used to find this quite easy to accomplish.
I decided to write something on the deeply disturbing subject of wife abuse in the manner of a short-form drama.
I had known more instances of this behaviour than I would have preferred to have been made aware of and could not for the life of me imagine how someone could hit a woman, not only once but many, many times.
Fantastic Voyage.
It's almost quaint, this one. It has a strong feel of the Fifties variety show to it. A cavil in passing - if I'd been in the position of the mid-Sixties Rolling Stones, I definitely would have gone on the Sunday Night At The London Palladium show's revolving stage.
They had refused to stand on the roundabout with the other acts at the end of the show, as it didn't fit in with their rebellious image. I was surprised to read that the American entertainer Judy Garland also refused a whirl, as she was too emotionally upset. Who knew?
I would have been shyly clawing my way past Jimmy Tarbuck to get on. I remember my mother being excited about the first time this show appeared on television in 1955.
My father had bought our set for Princess Elizabeth's coronation in 1953 and it had opened up a new world for us. Guy Mitchell was apparently an exciting part of this world as my mother went all schoolgirl when he came on screen and sang She Wears Red Feathers (And A Hula Hula Skirt).
This song's chord structure (Fantastic Voyage, I mean, not She Wears Red Feathers) appeared on the album Lodger in two forms. First, as it appears here and then further in as Boys Keep Swinging (they were men's dresses, I tell you). Both the tempo and top-line melody are rewritten.
I did this again on the album Scary Monsters (And Super Creeps). It proved nothing. Thinking about it, Guy Mitchell would have done this song proud.
Loving The Alien.
I'm trying to come up with a little-used word for each song entry. I've not got one for this song. And this song is not, it may surprise you to know, another ode to little green Martians. Oh, recidivism, that'll fit.
Time Will Crawl
There are a host of songs that I've recorded over the years that for one reason or another (clenched teeth) I've often wanted to re-record some time in the future. This track from Never Let Me Down is one of those.
I've replaced the drum machine with true drums and added some crickety strings and remixed. I'm very fond of this new version with its Neil Young of Shortlands accents. Oh, to redo the rest of that album.
One Saturday afternoon in April 1986, along with some other musicians I was taking a break from recording at Montreux studios in Switzerland. It was a beautiful day and we were outside on a small piece of lawn facing the Alps and the lake.
Our engineer, who had been listening to the radio, shot out of the studio and shouted: 'There's a whole lot of s*** going on in Russia.'
The Swiss news had picked up a Norwegian radio station that was screaming - to anyone who would listen - that huge billowing clouds were moving over from the Motherland and they weren't rain clouds. This was the first news in Europe of the satanic Chernobyl.
I phoned a writer friend in London, but he hadn't heard anything about it. It wasn't for many more hours that the story started trickling out as major news.
For those first few moments it felt sort of claustrophobic to know you were one of only a few witnesses to something of this magnitude.
Over the next couple of months a complicated crucible of impressions collected in my head prompted by this insanity, any one of which could have become a song. I stuck them all in Time Will Crawl. That last sentence rhymes.
Hang On To Yourself (live).
Ziggy and the Spiders had played around 50 UK shows total, and this Santa Monica performance, from October 20, 1972, would be our 12th in America.
Although of only bootleg quality and despite the drums and bass being casually miked, I hope you can feel our real thrill here of presenting the band to a radio audience for the first time. I necessarily took the most centre-stage position as easily as an old ham from Bromley Repertory would, though in reality I was deadly nervous.
This was our first live American radio broadcast, so it was a big deal. We fluffed a lot of stuff that night, but the enthusiasm and pride stand 10ft tall.
One astounding thing about Mainman, my management at the time, is that for the 18 months of the Spiders' life-cycle (and after, actually) they never arranged for us to play anywhere in Europe where Ziggy was a proverbial monster. No tours, no shows, not even Paris.
I never understood that and was pretty miserable about it at the time, but now realise how naive and unprepared my management was for the serious job of actually managing.
© David Bowie 2008.
---
DAVID BOWIE GETS AN APOLOGY
25th June 2014
THE OTTAWA CITIZEN have apologised to DAVID BOWIE over an article published on May 15th 2014, written by Assistant University Professor Blayne Haggart.
The article stated that David Bowie was responsible for the removal from YouTube of Astronaut CHRIS HADFIELD's video version of 'Space Oddity' which was viewed over 22 million times.
The commentary erroneously claimed that Mr. Bowie refused to renew a one-year licence previously granted to Commander Hadfield, ultimately forcing the video to be removed from worldwide distribution.
That was incorrect.
"On behalf of Blayne Haggart and ourselves, we regret the error and we sincerely apologize to Mr. Bowie as well as all his fans around the world."
You can read their full apology here.
Personally, I feel certain words should have been emphasised, so that people understand it clearly...
"[W]hile Mr. Bowie would give his full support to the use of the song by Commander Hadfield, Space Oddity was the ONLY ONE of more than 300 songs he has written and recorded for which HE DID NOT OWN or CONTROL the copyright. Mr. Bowie offered to have his people call the publisher and convey his strong support, but he had NO ABILITY to personally dictate any of the terms of the licence or even require the publishers to issue one."
Further reading on this story:
The Inquisitr: 'David Bowie gets apology from Canadian newspaper' - [Read here].
Poynter: 'Ottawa Citizen apologizes to David Bowie for 'Space Oddity' accusation' - [Read here].
AV Club: 'An Ottawa newspaper has apologized to David Bowie' - [Read here].
USA Today: 'Ottawa paper apologizes to Bowie for 'Oddity' error' - [Read here].
---
DIAMOND DOGS RULE OK
23rd June 2014


Released today is the DAVID BOWIE 40th Anniversary limited edition 7 inch single, which is the tenth release in this on-going series.
Featured on the A side of the picture disc is an image outtake from the famous session by photographer Terry O'Neill/Iconic Images and the AA side features a previously unpublished image from the The Year of the Diamond Dogs 1974 US tour.
A-Side: Diamond Dogs
Arranged and Produced by David Bowie. Mixed by David Bowie and Tony Visconti.
Recorded at Olympic and Island Studios, London.
AA-Side: Diamond Dogs (David Live - 2005 mix).
Produced and mixed by Tony Visconti. Recorded live at Tower Theater, Philadelphia, July 1974.
Catalogue Number DBDOGS40
You can purchase NOW
or if you prefer, see if you can pick up a bargain via eBay listings.
---
DAY IN, DAY OUT...
23rd June 2014
• Sad news to report that magazine publisher and entrepreneur FELIX DENNIS has past away, aged 67. You may recall that Felix bought DAVID BOWIE's Britannia Bay House, Campbell Hills, Mustique in 1995. Felix later renamed it 'Mandalay'...
• On this day, 43 years ago, DAVID BOWIE performed at Glastonbury Festival for the first time in 1971. David is pictured here leaving the Eavises' farmhouse. For the performance he wore a blue Magician's cloak and a hat purchased from 'The Universal Witness' boutique on the Fulham Road. Photographs © Gabi Pape...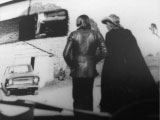 ---
BOWIE TRIBUTE DAVID BRIGHTON - UPCOMING GIGS
18th June 2014

DAVID BOWIE tribute band DAVID BRIGHTON's Space Oddity have the following gigs lined up for June and July...
June 20th: That 80's Bar, 10555 Mills Ave, Monclaire, CA 91763, USA.
June 29th: Lake Forest Concert In The Park, 21701 Pittsford Drive, Lake Forest, CA, USA.
July 5th: Mozambique, 1740 S Coast Hwy, Laguna Beach, CA 92651, USA.
July 11th: The Portage Theater, 4050 N Milwaukee Ave, Chicago, Illinois 60641, USA.
July 19th: Pala Casino - Infinity, 11154 HWY 76, Pala, CA 92059, USA.
July 22nd: Harrah's Lake Tahoe, South Shore Room, 15 Highway 50, Stateline, NV 89449, USA.
For more details and information, pop on over to the davidbowietribute.com website.
---
SUPPORT THE LOU REED ARCHIVE
18th June 2014
Over the past thirty years LOU REED amassed a large collection of equipment in support of his many tours. While all of his most important guitars, amps, and effects will be kept by Sister Ray Enterprises for his archive, there are many pieces of musical gear and road cases that need to be sold.
Over the next few weeks these items will be auctioned through eBay - the proceeds will go towards the work that is underway to develop the Lou Reed Archive.
Please support this effort by checking the Lou Reed Archive eBay page.
New items will be posted every few days and a wide variety of items will be available. All of these items were kept at Sister Ray Enterprises and were used by Lou and his band on tour. Don't miss this unique opportunity to own a piece of music history.
---
DID YOU SEE ZIGGY IN CROYDON?
16th June 2014
Your help is required... Did you go to the DAVID BOWIE shows in Croydon on June 24th in 1973?
Any people who attended the gigs at Fairfield Hall, your testimonies are required for a special project and exhibition.
Please email
Many thanks.
---
KEEP YOUR 'LECTRIC EYE ON EBAY
12th June 2014


Currently up for grabs over on eBay is an original 'Glamour' study for 1980 DAVID BOWIE 'Scary Monsters (And Super Creeps)' album by artist Edward Bell.
A unique study for the album. Inscribed to 'Janice'.
The artwork by Edward Bell is a preparatory study and shows significant differences to the finished painting.
Original 1980s frame 39.5 x 25.5 cm.
Some minor staining and a slight nick to the paper above the nostril.
Watercolour and gouache.
Provenance: Private collection, London.
There is a Buy It Now price of 1,300 GBP (approx. $2,188) or you can make an offer.
You can check out more details and photographs HERE
---
KNOCK ON WOOD 40th ANNIVERSARY
12th June 2014

davidbowie.com have announced details of the next DAVID BOWIE 40th Anniversary single release.
'Knock On Wood' is to be released on Monday 22nd September the eleventh in this limited edition series.
Side A: Knock On Wood (David Live - 2005 Mix).
(Steve Cropper/Eddie Floyd).
Produced and mixed by Tony Visconti.
Recorded live at Tower Theatre, Philadelphia, July 1974.
Side AA: Rock 'n' Roll With Me (David Live - 2005 Mix).
Produced and mixed by Tony Visconti.
Recorded live at Tower Theatre, Philadelphia, July 1974.
Catalogue Number DBKOW40.
The photographs used for this release are both live shots from the 1974 'The Year of the Diamond Dogs' Tour. The A-side was used on the original French release and the AA-side features a rare live image.
Update: The Knock On Wood picture disc is available to pre-order
NOW.
---
AND THE BITS FLEW FAR AND WIDE...
12th June 2014
• Grab yourself a bargain! The eagerly anticipated publication later this month of the brand new DAVID BOWIE book FIVE SESSIONS by Chris Duffy and Kevin Cann now on 30th June currently has a massive 51% discount available by pre-ordering here
...
• JANELLE MONÁE performed her version of the DAVID BOWIE / BRIAN ENO 1977 classic "Heroes" last night on the David Letterman Show - [View here]...
• MCA CHICAGO have announced: "We've extended the DAVID BOWIE Is exhibition superfan ticket sales until 20th June due to interest." - [Read here]...
• Check out the latest videos uploaded onto the that are in the running to be screened at the Berliner Festspiele 'One day for... David Bowie' Grand Gala in Berlin on 15th June - [View here]...
• DAVID BOWIE tribute act JEAN GENIE are performing at The Flowerpot, King Street, Derby DE1 3DZ, England on Friday 13th June - [More details]...
• Nicely written blog by Sabine Schereck about visiting the DAVID BOWIE exhibition in Berlin - [Read here]...
---
DIAMOND DOGS RULE OK
10th June 2014


The next DAVID BOWIE 40th Anniversary limited edition 7 inch single is released on 23rd June Diamond Dogs is the tenth release in this on-going series.
Featured on the A side of the picture disc is an image outtake from the famous session by photographer Terry O'Neill/Iconic Images and the AA side features a previously unpublished image from the The Year of the Diamond Dogs 1974 US tour.
A-Side: Diamond Dogs
Arranged and Produced by David Bowie. Mixed by David Bowie and Tony Visconti.
Recorded at Olympic and Island Studios, London.
AA-Side: Diamond Dogs (David Live - 2005 mix).
Produced and mixed by Tony Visconti. Recorded live at Tower Theater, Philadelphia, July 1974.
Catalogue Number DBDOGS40
Note the originally announced release date has been put forward by a week.
You can pre-order NOW
or if you prefer, see if you can pick up a bargain via eBay listings.
---
BOWIE & HUTCH MEMOIRS
9th June 2014

Scheduled to be published this month is 'BOWIE & HUTCH' - the autobiography of JOHN 'HUTCH' HUTCHINSON via Lodge Books.
Hutch has been looking for a new publisher since 2011 (See BW News July 2011) and now it finally sees the light of day via Lodge Books of Bridlington.
This publication is available in paperback, containing 380 pages, with the cover designed by his daughter Hayley Forrest.
Hutch: "These days I am still a guitar player (shamelessly still the 'ex-Bowie veteran guitarist' on the gig posters) and luckily I still have an audience for my own music, even in my 'old age'. I live a quiet life (most of the time) in the open space of the East Yorkshire Wolds, and I have had time to reflect and write this memoir.
"This is my story as a guitarist and friend of David Bowie in the good old days and my book includes my memories of my times with David during his musically formative years with David Bowie & The Buzz in 1966 in The Marquee Club and with Feathers (Bowie, Hutch and Hermione) in 1968 as well as my first-hand account of the Ziggy Stardust and The Spiders from Mars groundbreaking Aladdin Sane USA, Japan and UK tours in 1973 when I played 12 string guitar as an 'auxiliary' Spider.
"I played my part, my supporting role in the earlier days of The David Bowie Story, we both were young and he was my mate, never just my employer. So it's my story too, it's our story, the Bowie & Hutch story."
Quotable quotes: "Hutch's story is a fabulous journey that takes him from hometown Scarborough to the Marquee Club in London 1966 to the Hammersmith Odeon Farewell concert 1973 - via Tokyo, New York and Los Angeles. From a 'buzz around London' to worldwide hysteria... in the company of David Bowie. Jealous? Me?" - Marc Riley, BBC Radio 6 Music.
"You know I think the story is a great rock biography as Hutch helped one of the great innovators of 20th century music." - Dr Rock, BBC Radio York (aka Charles White, author of one of David Bowie's Top 100 Must-Read Books The Life and Times of Little Richard. 1984.
Lodge Books said the book will be available in the next few weeks priced 12.99 GBP plus P&P and will be soon available on Amazon.
You can now purchase both the Paperback
and the Kindle edition
---
AND THE BITS FLEW FAR AND WIDE...
9th June 2014
• You can win two tickets to the sold out BOWIE NIGHT at the Bristol Museum and Art Gallery on 19th June. Celebrate David Bowie's music and the links to Turner Prize winner JEREMY DELLER's work in the English Magic exhibition currently on show with performances by The Greatness Of The Magnificence Fantasy Orchestra, art, talks, tours - [More details]...
• DAVID BOWIE's song 'After All' has been covered by BILLIE RAY MARTIN. Animation/effects by Joern Hartmann - [View here]...
• Birthday memories... on this day, 64 years ago, TREVOR BOLDER was born. (1950-2013)...
• Currently showing at SNAP GALLERIES is The Beat Goes On - classic 1960s images by DAVID WEDGEBURY. Included are unpublished shots of DAVID BOWIE from 1964, display in a rather lovely montage shot - [View here]. The exhibition runs from 26th June through to 23rd July 2014...
---
TUNE INTO DAVID BOWIE's 50 YEARS OF MUSIC
6th June 2014
Be sure to tune into here tomorrow...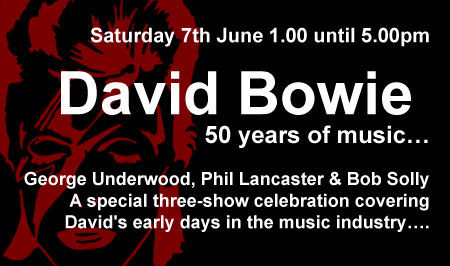 Update: If you unfortunately missed any of these three shows you can listen again in their archive.
Saturday 7th June - channelradio.co.uk celebrate DAVID BOWIE's 50 years of Music - covering the 50th anniversary of the release of 'Liza Jane' with three great shows...
1pm-2pm - George Underwood recalls his time as a King Bee.
2pm-3pm - Phil Lancaster remembers his mod days with David in The Lower Third.
3pm-5pm - Bob Solly (live) recalls the time when Davie Jones joined his group The Manish Boys. (Bob will be taking calls live in the studio from 4pm GMT).
You can tune in from anywhere in the world at channelradio.co.uk - check your local time here
---
CONGRATS TO DAVID AND IMAN... AND ZIGGY
6th June 2014
Today marks the 22nd anniversary of DAVID and IMAN's wedding ceremony at Saint James Episcopal Church, in Florence, Italy.
The best man was David's son Duncan with chief usher Alan Edwards. Iman's maid of honour was her best friend Bethann Hardison.
Besides their immediate families, among the sixty-eight invited guests were Yoko Ono, Brian Eno, Bono, Eric Idle, Geoff MacCormack, George Underwood, Herve Leger and Thierry Mugler.
You can click here to read an article from Hello! magazine entitled 'The Wedding of David Bowie and Iman' in the BW archives.
Today also marks the 42nd Anniversary release of the immortal 1972 album 'The Rise and Fall of Ziggy Stardust and The Spiders From Mars'.
---
TONY AND WOODY AT THE ICA
6th June 2014
TONY VISCONTI and WOODY WOODMANSEY are to guest at the ICA in London talking about the making of DAVID BOWIE's 1970 album 'The Man Who Sold The World'.
'Tony Visconti and Woody Woodmansey: The Making of David Bowie's The Man Who Sold The World' takes place on 16th September at 7pm in Cinema 1.
They will be talking to Tom Wilcox, a Director at the ICA. Excerpts from the album will be played as part of the talk. Tony and Woody will be available for a book/record signing immediately prior to the event.
This event is sure to sell out. You can book tickets for this event NOW via ica.org.uk website.
Reminder: Don't forget that tickets are on sale NOW for the newly added HOLY HOLY gigs in Glasgow and London.
---
AND THE BITS FLEW FAR AND WIDE...
5th June 2014
• Berlin Festspiele... cover your favourite DAVID BOWIE song... Upload your video by 7th June at the latest onto a platform of your choice (Vimeo, YouTube etc.) and send a link. The best clips will then be presented during the grand gala. Conditions of submission and participation [PDF, 66 KB]. An event in co-operation with RollingStone magazine - [View here]...
• DAVID BOWIE's album Diamond Dogs gets censored yet again! - [Read here]...
• Some rather nice photos of the DAVID BOWIE in Berlin. Although the 'Tap into David Bowie's Creative Core' article seems to have forgotten about Toronto and Sao Paulo! - [Read here]...
• Dancer extraordinare LOUISE LECAVALIER is looking more and more like a female DAVID BOWIE every day and better still, she's coming over to London to perform - [Read here]...
• MOBY is interviewed by LA Daily News and talks about being on tour with DAVID BOWIE...
"And also, I went on tour with David Bowie for about a month and that was amazing. Hanging out with David Bowie every day for a month backstage and playing "Heroes" on acoustic guitar while he sang was pretty awesome. "And the funny thing about that was he was my opening act. The reason for that was because he didn't want to go on last because he would have to deal with all the traffic. He forced me to go on last so that he could leave early and not deal with the traffic. It was hilarious because I got a lot of questions at the time from people annoyed that I was headlining on a tour with David Bowie. But it had nothing to do with status and everything to do with him not wanting to be stuck in traffic." - you can read the FULL interview - [Here]...
---
DAVID CELEBRATES 50 YEARS RECORDING
5th June 2013

Major congratulations are due today, for the anniversary of DAVID BOWIE's first ever single release 'Liza Jane' credited to Davie Jones with The King Bees, which was released 50 years ago today, 5th June 1964 on the Vocalion Pop label (V 9221).
Featuring seventeen-year-old Davie Jones (vocals and saxophone), George Underwood (guitar), Roger Bluck (guitar), Francis Howard (bass) and Robert Allen (drums).
Although credited to Leslie Conn, David's then manager who negotiated a one-single deal with Decca Records, George Underwood said the song was originally an old Negro spiritual that the band played around with and came up with this R'n'B song.
Leslie Conn's recollection of the events in 1997:
"I can tell you that I have got a pretty retentive memory, but that is something I can't clearly recall. I used to write songs except that I don't write music and I don't play piano. When the boys were jamming to kind of come up with some ideas to make a record, they came up with some six bar blues, which everyone uses. As they were doing that, I came up with my own idea, which came from nowhere, and we improvised and the song came together. I mean, I would never take credit for something that I never did and I know David wouldn't have agreed for me to sign the contract as writer if he had wrote it himself. I would never have stolen someone else's song on principle. I know that I'm quite vague on that and I can't be absolutely sure how it all came about, but I know that I did come up with a lot of ideas. As for the production of the song that was most certainly me, I arranged and organised the whole thing and I always produced the material I was arranging with Decca at that time. George Underwood is definitely wrong on that point.
"There is a funny story while were still on the subject of 'Liza Jane'. When David and I parted company I went off to live and work in Majorca for a few years and one day I was on the phone to my mother and she said, 'what shall I do with those records I have in the garage' which were a few hundred copies of 'Liza Jane'. So I replied, 'Throw them out', and she did. The last time David came up here he said, 'Have you got any of those records we made, you know they're worth over a hundred pounds each!' I told him I got my mother to throw them all out! We had to laugh."
Backed with 'Louie Louie Go Home', written by Paul Revere and Mark Lindsay, which was incidentally pencilled in as the A-side, both songs were recorded in a seven-hour session at Decca Studios in Broadhurst Gardens, West Hampstead.
The single was re-released by Decca in September 1978 (catalogue number F 13807) and beware there are counterfeit Vocalion copies in circulation. Produced in the USA in 70s, the tell-tale difference between the original and the illegal pressings is the matrix number. On the original 1964 issue the matrix number is machine stamped on the vinyl and on the fake copies it is handwritten.
The official press release for the single from the press room of the Dick James Organisation in May 1964 read...
INTRODUCING DAVIE JONES WITH THE KING-BEES... AND THEIR FIRST DISC 'LIZA JANE'
Pop Music isn't all affluence. Just ask new seventeen year old recording star Davie Jones. Time was (two months ago, in fact) when he and his group were almost on their uppers. No money, bad equipment. Then Davie had a brainwave. "I had been reading a lot in the papers about John Bloom," says Davie. "So I put pen to paper and wrote him a letter." David told Bloom that he had the chance of backing one of the most talented and up-and-coming groups on the pop scene. All he had to do was advance the several hundred pounds it requires to outfit a pop group with the best equipment.
Davie didn't get the money, but he did get a telegram next day from John Bloom giving the phone number of Artist's Manager Leslie Conn. Davie got in touch, he was rewarded with a booking at Bloom's Wedding Anniversary Party. "We were a dismal failure", recalls Davie. "It was a dinner dress affair and we turned up in jeans and sweat shirts and played our usual brand of rhythm and blues. It didn't go down too well. Still we'll know better next time."
However, all's well that ends well. Leslie Conn liked the earthy type of music the group played, arranged an audition with Decca Records which resulted in a contract and the first release by David Jones with the King-Bees. "Liza Jane", released by Decca (Vocalion 9221) on June 5th.
DAVIE JONES WITH THE KING-BEES MET AT BARBERS
Davie Jones met up with his four member backing group the King-Bees when he visited his local barber shop in Bromley. In between clips he got chatting to the four lads, also there to be sheared, about their musical interests, and before you could say "Short back and sides", they decided to join forces.
The group specialise in hard-driving, uncompromising R & B, a brand of music that has won for them a dedicated following in the London area, a following which should soon be spreading throughout the length and breadth of England on the strength of their first disc.
"LIZA JANE", is a beaty, action packed disc which features the direct no-holds-barred Davie Jones vocal delivery. The King-Bees supply a hard core, R & B backing and the whole thing is crowned by a catchy chorus featuring the line "Little Liza Jane".
DAVIE JONES - Seventeen years old, fair haired Davie first got interested in pop music when he was ten. His father's secretary (Davie's father in P.R.O. for Dr. Barnardo's homes) who had previously worked for a disc company, sent Davie a 'Demo' copy of a new Little Richard disc. As the phrase goes, Davie was "knocked out", and when he had scraped together a few pounds of his pocket money, bought a plastic saxophone. Eventually he progressed on to the real thing. Lessons were the next step. "My idol on saxophone has always been Ronnie Ross", says Davie, "So I looked up his name up in the phone book and asked him if he would give me lessons." Ross agreed, but after Davie played him a few bars Ross's comment was: "Right now we can start working on you, that was bloody awful!" Davie gave up his music to take his G.C.E. at 15, then left school and joined an advertising agency as a commercial artist, where he still works.
When he left school Davie was able to concentrated on his music again, this time mainly as a vocalist, playing dance halls and clubs in and around the Bromley area. Then came the hair-cut and the letter to John Bloom...
Davie's favourite vocalists are Little Richard, Bob Dylan and John Lee Hooker. Apart from the saxophone he also plays the guitar. He dislikes Adams apples, and lists as his interests Baseball, American Football and collecting Boots. A handsome six footer with a warm and engaging personality, Davie Jones has all it takes to get to the show business heights, including... talent.
---
HOLY HOLY - MORE GIGS ANNOUNCED!
4th June 2014
Extra dates added in Glasgow and London...
Two more gigs have been lined up in September for HOLY HOLY who are performing DAVID BOWIE's 1970 album 'The Man Who Sold The World'.
Tickets go on General Sale his coming Friday at 9am. O2 Priority Tickets for these 3 extra gigs are available now at o2prioity.co.uk
The list of September gigs are as follows:
20th: ABC Glasgow - [Tickets].
22nd: London, Shepherd's Bush Empire - [Tickets].
18th: Sheffield, O2 Academy - [Tickets]
17th: London, The Garage - SOLD OUT.
TONY VISCONTI on bass, and WOODY WOODMANSEY on drums, are joined by Woody's stellar supergroup Holy Holy, including: Glenn Gregory (Heaven 17), vocals. Steve Norman (Spandau Ballet), sax, guitar, percussion and vocals. Erdal Kizilcay (David Bowie, Iggy Pop, Freddie Mercury), keyboards and vocals. James Stevenson (Generation X, Scott Walker, Gene Loves Jezebel), guitar. Paul Cuddeford (Ian Hunter, Bob Geldof), guitar. Rod Melvin (Ian Dury, Brian Eno), piano. Malcolm Doherty (Rumer), 12 string guitar and vocals. Lisa Ronson (A Secret History), vocals. Maggi Ronson backing vocals and recorder. Hannah Berridge Ronson backing vocals, recorder and keyboards.
Morgan Visconti has been added as support for the Sheffield and Glasgow gigs, and for the Shepherd's Bush gig Morgan plus Philip Rambow will support.
Support for the opening gig at The Garage is from exquisite singer-songwriter Gillian Glover.
Holy Holy release their debut single 'We Are King' on 17th September. Written by Steve Norman, backed with a cover version of David Bowie's 'Holy Holy'.
More details available on davidbowie.com
---
BORN HEROES
3rd June 2014
Actress ELENA ANAYA portrays DAVID BOWIE in the official spot of the International Mostra de Cinema Fire!
The video directed by Juanma Carrillo and aims to pay homage to David as a 'glam icon'.
This edition will feature 41 titles including feature films, documentaries and shorts, with twenty-five premieres in Spain.
More details available in Spanish over at lavanguardia.com website.
---
BOWIE BERLIN POCHE
3rd June 2014

DAVID BOWIE graces the front cover of BERLIN POCHE for their June issue (#63).
The pocket-sized 68-page publication informs you of all the cultural events and happenings in Berlin at present.
As you are obviously aware, the David Bowie exhibition is currently underway in Berlin at the Martin-Gropius-Bau, which runs until 10th August 2014.
More details and information can be found at berlinpoche.de site.
---
AND THE BITS FLEW FAR AND WIDE...
2nd June 2014
• Check out an excellent promotional feature and interview videos from SENNHEISER entitled DAVID BOWIE in 3D Sound - Changes of a Pop Icon - [Read here]...
• This German 1997 DAVID BOWIE interview has never been translated into English... until now. The interview was originally published in German in Max Dax's 'Thirty Conversations', published by Suhrkamp Verlag in 2008 - [Read here]...
• Check out an exclusive interview with GERRY LEONARD taking about working with DAVID BOWIE, Lou Reed, recording tips and what gear he uses - [Read here]...
• Currently up for auction from a former Decca Records employee - who is selling his wife's autograph books (six in total) - the autograph books contain a vast amount of Sixties autographs including two 1965 DAVID BOWIE and the Lower Third signed pages (one as David Jones and the other as David Bowie), also featuring David Bowie and the Buzz (band signing without Bowie) - [View here]...
• The DAVID BOWIE: Cracked Actor documentary by Alan Yentob is showing on 4th June at August Ortsstraat, 20-28 1000 Brussels - [More details]...
• MUSIC ON VINYL are to release 'Low Symphony' by PHILIP GLASS on vinyl on 9th June - [More details].
---
DUFFY / BOWIE: FIVE SESSIONS
1st June 2014

The brand new DAVID BOWIE book Five Sessions is a 204-page hardcover book by Chris Duffy and Kevin Cann, which also has a foreword written by Sir Peter Blake is to be published by ACC Editions later this month now on 30th June to coincide with the David Bowie exhibition in Berlin.
Synoposis: Brian Duffy defined the image of the 1960s, and was as famous as the stars he photographed. Together with David Bailey and Terence Donovan, he is recognised as one of the innovators of 'documentary' fashion photography, a style which revolutionised fashion imagery and furthermore the fashion industry.
Duffy's most famous photograph dates from the 1970s and is the iconic and revolutionary cover of David Bowie's album Aladdin Sane, a shot that became the defining look of Bowie's long career, and has been referred to as the Mona Lisa of pop. The photographer and the rock star collaborated on four other projects: Ziggy Stardust, The Man Who Fell To Earth, Scary Monsters (and Super Creeps) and Lodger. They worked together during the pivotal years of Bowie's career; when the king of glam was assuming and discarding extraordinary personas, Duffy was capturing them all.
Written by David Bowie's biographer Kevin Cann, this book includes anecdotes and stories from those attending the shoots - Tony Defries (Bowie's manager at the time of Ziggy Stardust); Celia Philo (designer) and Phillip Castle (airbrush artist) from the famous Aladdin Sane shoot; Francis Newman (Duffy's studio manager); Nick Roeg (film director); May Routh (costume designer) from The Man Who Fell To Earth; Geoff McCormack (musician and Bowie's childhood friend); Derek Boshier (art director of Lodger; Natasha Kornilof costume designer for Scary Monsters; and Duffy's son Chris who also worked on the Scary Monsters session.
Included are many unseen images and behind the scenes photographs. Illustrates Brian Duffy's five different photographic shoots with David Bowie, documenting Bowie's career and pioneering reinvention, as well as Duffy's special relationship with the artist over almost a decade. Includes some of the most famous Bowie images together with out takes and rare shots.
The book Duffy Bowie: Five Sessions
is available to pre-order NOW.
---
DAVID BOWIE OPENS IN BERLIN
1st June 2014

The DAVID BOWIE IS exhibition is currently taking place in Berlin at the Martin-Gropius-Bau Museum until 10th August 2014.
Venue: Martin-Gropius-Bau, Niederkirchnerstraße 7, 10963 Berlin.
Opening Hours: 10.00 - 20.00 daily. No closing day. Cash desk closes at 19.15.
More details, information and ticket purchasing available NOW at davidbowie-berlin.de/en
Everyone I've spoken to who has visited the Berlin exhibition have said it's absolutely wonderful and well worth visiting even if you've already seen it in London.
After Berlin, the exhibition carries onto Chicago, Paris and Netherlands.
---
NEW DAVID BOWIE BOOK DUE
1st June 2014

A new DAVID BOWIE book is to be published next month by OR Books... 'Bowie' by Simon Critchley.
Simon Critchley melds together personal narratives of how David Bowie lit up a dull teenage life in England's suburbs with philosophical forays into the way authenticity and identity are turned inside out in the artist's work.
Simon Critchley first encountered David Bowie in the early seventies, when the singer appeared on Britain's most-watched music show, Top of the Pops. His performance of 'Starman' mesmerized Critchley: it was "so sexual, so knowing, so strange." Two days later Critchley's mum bought a copy of the single; she liked both the song and the performer's bright orange hair (she had previously been a hairdresser). The seed of a lifelong love affair was thus planted in the mind of her son, aged 12.
In this concise and engaging excursion through the songs of one of the world's greatest pop stars, Critchley, whose writings on philosophy have garnered widespread praise, melds together personal narratives of how Bowie lit up his dull life in southern England's suburbs with philosophical forays into the way concepts of authenticity and identity are turned inside out in Bowie's work. The result is nearly as provocative and mind-expanding as the artist it portrays.
100 pages. Paperback: $13/£8 GBP. Paperback ISBN 978-1-939293-54-1. E-book ISBN 978-1-939293-55-8.
Check out the orbooks.com website for more details.
---
VISCONTI and WOODMANSEY with HOLY HOLY IN SHEFFIELD
1st June 2014
Update: The London gig is now sold out.
A second gig has been added for the following day.
HOLY HOLY will also play Sheffield O2 Academy on Thursday 18th Steptember. I've been informed that NO MORE gigs in 2014 will be announced.
Tickets are on sale NOW here - be quick.
---
TWIN PEAKS - THE ENTIRE MYSTERY
1st June 2014

Finally! The Missing Pieces!..
Next month there's a brand new TWIN PEAKS - THE ENTIRE MYSTERY DVD Blu-ray 10-disc box all set for release on 29th July, and it includes nearly 90 minutes of never-before-seen deleted and alternate scenes from the prequel film 'Twin Peaks: Fire Walk With Me'.
This is the footage that fans have been craving for years, and finally this box set that was personally supervised by Twin Peaks mastermind David Lynch sees the light of day.
And yes... DAVID BOWIE starring as Agent Phillip Jefferies appears. Check out the trailer below...
Twenty-five years after the shocking murder of Laura Palmer in the acclaimed series from legendary filmmaker David Lynch and writer/producer Mark Frost, CBS Home Entertainment and Paramount Home Media Distribution will release TWIN PEAKS - THE ENTIRE MYSTERY.
Arriving for the first time on stunning High Definition Blu-ray with English 7.1 DTS-HD Master Audio on July 29th, this comprehensive collection contains every episode from the complete television series; both the U.S. and international versions of the series' Pilot; the North American Blu-ray debut of Lynch's follow-up feature Twin Peaks: Fire Walk With Me; and nearly 90 minutes of deleted and alternate scenes from the film. The set also features newly transferred Log Lady introductions for each episode; picture upgrades to many shots in the TV series; a new featurette with Lynch and the actors who portrayed the Palmer family which includes a mesmerising return to the lives of their characters today; and hours of never-before-released material that dives into the fascinating story behind the celebrated pop culture classic.
Along with a newly transferred version of Twin Peaks: Fire Walk With Me, created from a 4K scan of the original negative, TWIN PEAKS - THE ENTIRE MYSTERY Blu-ray box set boasts the long-awaited missing pieces from the original version of the film - nearly an hour-and-a-half of deleted/alternate scenes from Twin Peaks: Fire Walk With Me - often referred to as the "holy grail" of Twin Peaks fandom. This feature-length experience has been directed and edited by Lynch exclusively for this release. Capping off more than 30 deleted/alternate scenes is an epilogue providing a fascinating glimpse beyond the cliffhanger finale of the TV series.
If you would like to download the FULL script of the movie it has been available on here since 2009.
Twin Peaks - The Entire Mystery [Blu-ray] is available to pre-order NOW
.
---
DAVID BOWIE WONDERWORLD NEWS ARCHIVE
May | April | March | February | January
2013 Bowie News
2012 Bowie News | 2011 Bowie News | 2010 Bowie News | 2009 Bowie News
2008 Bowie News | 2007 Bowie News | 2006 Bowie News | 2005 Bowie News
2004 Bowie News | 2003 Bowie News | 2002 Bowie News | 2001 Bowie News
2000 Bowie News | 1999 Bowie News | 1998 Bowie News | 1997 Bowie News






| | |
| --- | --- |
| Created: June 2014 © Paul Kinder | Last Updated: 29/6/14 |