BOWIE TV and WHAT'S REALLY HAPPENING IN OCTOBER - MONTHLY PLANNER

[BOWIEWONDERWORLD SHOP] [LATEST DAVID BOWIE ITEMS ON eBAY]
[@bowiewonderworld.com email addresses HERE]
Have YOU got some DAVID BOWIE related news or a hot scoop?
Well don't just sit there keeping it to yourself - send it in to
All news items are credited if you so wish
---
IMAN TWEET...
30th October 2012

---
THE ART FOR ART'S SAKE SHOW
29th October 2012

Artist GEORGE UNDERWOOD is one of the artists exhibiting in The Art for Art's Sake Show which takes place at The Gallery in Cork Street, London W1S 3NG from 3rd-8th December at 10am-6pm.
The ten exhibitors have been cherry picked to offer an eclectic and unusual blend of paintings, drawings and sculpture, photography, jewellery, ceramics and ceramic sculpture. All bar the two founders of The Art for Art's Sake Show, are the artists themselves thus giving the public a rare opportunity to buy direct from the artist, and eliminating extra costs. All are established, many have had one man shows in Britain, Europe and the States and several are award winners.
The common denominator for all pieces in the show is quality. Everything is beautifully and expertly created and exhibited so that the final result is a stimulating, often unexpected display of affordable contemporary art embracing a wide spectrum of pockets, with prices ranging from £250 to £16,000.
George started his working life as a musician and singer, but has been a professional artist since the 1970s. His artwork for the first T. Rex album and later David Bowie's Hunky Dory and Ziggy Stardust album covers, established him as a major creative illustrator. Bruegel, Bosch and more recently the Viennese School of Fantastic Realism have clearly influenced his work which today has a captivating, dream like quality. Imagination is the key word in Underwood's paintings; he rarely uses live models, preferring to invent people who inhabit their own personal world.
Two of George's DAVID BOWIE pieces included in the exhibition are a Hunky Dory oil painting on card that has never been shown before and artwork created in 1975 before the 'Low' album was released. This was used for the paperback cover of The Man Who Fell To Earth. (David himself owns the original 20x30 ins oils on canvas).
More details and information can be found at theartforartssakeshow.com and georgeunderwood.com websites.
---
AND THE BITS FLEW FAR AND WIDE...
21st October 2012
• Next month 'Dave' the movie (based on a DAVID BOWIE theme) is presented by Radio Soulwax / Q&A Director and Radio Soulwax is to be screened on Tuesday 13th November at 6.20pm at Curzon Mayfair in London, UK. Visit curzoncinemas.com for more details and tickets...
• World class Danish jazz singer CECILIE NORBY with RUO and DR Big Band delivered two concert evenings on 12th and 14th October with DAVID BOWIE's lyrical, cinematic and melodic music in the repertoire. The Concert Hall was the setting for an amazing musical experience where the strongest of Bowie's compositions gets listed in new and exciting events. See caecilienorby.com the for more information - [from Tony]...
• I'm sure everyone has seen the papp photographs and video footage of DAVID BOWIE out and about in NYC last week. If not, you can view them all here and on zimbio.com...
---
DAVID BOWIE IS... PUBLICATION
20th October 2012

The V&A are publishing a DAVID BOWIE companion book to coincide with their upcoming exhibition next year.
'David Bowie Is' by Victoria Broakes and Geoffrey Marsh will be available in both deluxe hardcover
and paperback
versions on 4th March 2013.
Synopis: David Bowie is a pioneering artist and performer whose career has spanned nearly 50 years and brought him international acclaim. He has sold over 140 million albums, and been cited as a major influence on contemporary artists and designers working across the creative arts. This is the first book produced with access to the David Bowie archive of performance costume, ephemera and original artwork by the artist, which is brought together to present a completely new perspective on his creative work and collaborations. The book traces his career from its beginnings in London, through the breakthroughs of Space Oddity and Ziggy Stardust and the Spiders from Mars, and on to his impact on the larger international tradition of twentieth-century avant-garde art. Essays by V&A curators on Bowie's London, image, and influence on the fashion world, are complemented by Christopher Frayling, Mark Kermode and Philip Hoare on film; Howard Goodall on musicology; Camille Paglia on gender and decadence; and Jon Savage on Bowie's relationship with William Burroughs and his fans.
You can now pre-order both the Deluxe Hardback
and the paperback
versions and receive 10% and 15% discounts respectively.
---
'DAVE' TRAILER
20th October 2012
Check out the trailer for the new Radio Soulwax project movie entitled 'Dave'.
The plot sees DAVID BOWIE time travelling as a private detective through his life in an endless stream of his music, meeting former incarnations of himself and friends like Freddie Mercury and Iggy Pop.
Directors Wim Reygaert, Stephen Dewaele and David Dewaele cast a female Belgian model named HANNELORE KNUTS who is playing David Bowie.
The music soundtrack features Reygaert and the Dewaeles who are collectively known as DJ Soulwax. They've included all things Bowie, whether that is original songs, covers, backing vocals, production work or reworks we made, to attempt to give you the full scope of the man's genius.
Hannelore was asked how did she prepare for this role?... "If someone asks you to play Bowie, you need to know which Bowie. Wim Reygaert had to steer me in the right direction. Most of my inspiration came from the Thin White Duke, Bowie's alter ego in 1976 from the album Station To Station. I spent most of the summer with dyed orange hair, but otherwise I did not really prepare. Playing a man as a woman was actually not that difficult. Bowie himself is a very androgynous figure with both male and female traits."
Cast: Hannelore Knuts (Dave), Sam Louwyck (William S. Burroughs), Bent Van Looy (The Scary Monster), Maarten Claeyssens (Iggy Pop), Jef Pereman (Ziggy Stardust), Nicolas Karakatsanis (Freddy Mercury.
'Dave' screened at the Gand International Film Festival in Belgium and premiered on 18th October.
Next month the movie presented by Radio Soulwax / Q&A Director and Radio Soulwax is to be screened on Tuesday 13th November at 6.20pm at Curzon Mayfair in London, UK. Visit curzoncinemas.com website for more details and ticket purchasing.
---
BOWIE: ALBUM BY ALBUM
16th October 2012

A new book has just been published BOWIE: ALBUM BY ALBUM (ISBN-10: 1780972172) by author Paolo Hewitt.
The 288-page hardcover book is published by Carlton Books in the UK and Commonwealth, France (Les Editions Fetjaine), Sweden (Forma Publishing) and Germany (Edel Germany GmbH) last week on 11th October.
With an introduction by Robert Elms and featuring 200 illustrations in colour and black and white, Bowie: Album By Album is impeccably designed and illustrated, featuring a retrospective and chronology of each of the 27 studio albums, with many previously unpublished photographs.
Bowie: Album By Album is published to acknowledge the 40th anniversary of The Rise and Fall of Ziggy Stardust and The Spiders From Mars and Bowie's first number-one album Aladdin Sane.
You can purchase Bowie: Album By Album
NOW and receive a 15% discount.
Note: This title was previously known as 'David Bowie: The Studio Years'.
---
DAVID BOWIE COURSE AT CITY LIT
16th October 2012
CITY LIT London's largest adult education institute based in Covent Garden, are running a new course dedicated to DAVID BOWIE this November.
The course entitled 'Starman: How David Bowie lit up the 70s' takes place on Sunday 18th November and Sunday 25th November from 10:30-12:30 and will be taught by acclaimed music journalist Toby Manning.
Topics covered include the philosophy and style of Glam rock, Bowie and sexuality, Bowie and Sci-Fi, and Bowie, Nietzsche, the Kabala and Nazism. The course covers Bowie's entire career and musical and cultural legacy.
Come learn something new about one of music's great innovators, share your views on Bowie's life and work plus enjoy a host of Bowie video and music clips.
What is the course about?
Find out how David Bowie's songs, persona and style broke with 60s values and aesthetics and largely "invented" the 70s. The first postmodern pop star, Bowie once described himself as a Xerox: this course will reveal the writers, stylists, musicians and philosophers Bowie drew upon, as well as an entire generation who were left "Bowie damaged".
What topics will we cover?
01. Bowie's family background and education.
02. 60s career: beat groups, vaudeville, psychedelia and Space Oddity.
03. Bowie and Sci Fi (HP Lovecraft; Arthur C Clarke).
04. Glam rock: philosophy, style and content (from Hunky Dory to Diamond Dogs).
05. Bowie and sexuality.
06. Bowie, Nietzsche, the Kabala and Nazism.
07. "Plastic Soul": Bowie and black music (Young Americans; Station To Station).
08. The Berlin Period: Low, "Heroes", Lodger, Scary Monsters, Krautrock and Iggy Pop.
09. The 80s pop years.
10. Bowie's 90s and 00s Revival.
11. Bowie's music: a musicological analysis.
12. Bowie's influence: punk, new wave, 80s pop, 90s indie rock and 00s dance music.
By the end of this course you should be able to:- Hold your own in any discussion about David Bowie.
- Have a greater understanding of his place in pop culture.
- Discover some of his inspirations.
What level is the course and do I need any particular skills?
The course is aimed at music lovers generally. The only skill you'll need is an appreciation of the music of David Bowie.
How will I be taught, and will there be any work outside the class?
The course will involve lecture presentations by the teacher, group discussion, plenty of video clips and music clips of both Bowie and others, plus some brief practical illustrations of music theory. There will be no work outside the class.
For more information on the course including pricing, please visit citylit.ac.uk or call 020 7831 7831 to book your place.
From Mario Vella @ citylit.ac.uk
---
DAVID FEATURES IN LID MAGAZINE #15
15th October 2012

DAVID BOWIE appears on the front cover of LID magazine #15 to be published in November.
This edition is limited to only 350 copies. Inside there are eighteen pages of Sukita photographs that are featured in the Speed Of Life publication from Genesis.
The magazine can be bought online now at lidmagazine.net/shop.html
Lid features some of the finest rare and unpublished photographs and art from the worlds of music, fashion, the fine arts and cinema. Artists the world over open their archives to Lid, offering extensive portfolios not seen in other magazines.
Each bi-annual issue of Lid is published in all black and white, on premium paper, and printed as a limited edition for serious collectors and archivists. Available at some of the finest shops worldwide.
---
BOWIEBALL 2012
7th October 2012

Everyone's favourite glam dance party is back, live @ Le Poisson Rouge, New York on 10.13.12. BOWIEBALL The Ultimate Glam Rock Revolution.
Celebrating our 8th year, BowieBall pays homage to definitive rock icon DAVID BOWIE in an anything goes charity glam extravaganza bringing together the best in NYC's music, art, fashion and entertainment.
In addition to a DJ set by Pierce Jackson of Paper Magazine and host designer Scooter LaForge, we teamed up with MAC Cosmetics to make this one of our best events yet. Thanks and see you on October 13th!
More details and information can be found over at bowieballnyc.com and derycktodd.com
From Deryck Todd.
---
THE JEAN GENIE 2012
1st October 2012

Next month EMI are set to release another DAVID BOWIE 40th anniversary picture disc single limited edition release.
This third 40th celebration picture disc release is 'The Jean Genie' in a 7 inch single picture disc format (Cat No. DBJEAN 40A) and is scheduled to hit the shops on Monday 19th November.
As you can see the picture disc features a Mick Rock shot featuring David and Cyrinda Foxe in a bar in San Francisco.
David Bowie's third British hit single of 1972, and the biggest one yet. Released just in time for Christmas, 'The Jean Genie' soared to number two in the British single charts.
The B-side is the live 'Top Of The Pops' audio - significantly different to the original single.
Tracklisting:
Side A: The Jean Genie (2012 - Remaster).
Side B: The Jean Genie (Top Of The Pops Version).
There are several record shops already selling pre-orders. Most are limited to ONE copy per customer. Pre-order now and expect to pay £7.99.
There are plenty of listings over on eBay or if you prefer to use Amazon you can pre-order NOW
and you will pay the lowest price listed at the time.
---
DAVID BOWIE IS... AT THE V&A
1st October 2012
The V&A have announced full details of the forthcoming DAVID BOWIE exhibition to be held in London next year...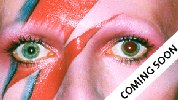 David Bowie is: About the Exhibition.
The V&A has been given unprecedented access to the David Bowie Archive to curate the first international retrospective of the extraordinary career of David Bowie - one of the most pioneering and influential performers of modern times. David Bowie is will explore the creative processes of Bowie as a musical innovator and cultural icon, tracing his shifting style and sustained reinvention across five decades.
The V&A's Theatre and Performance curators, Victoria Broackes and Geoffrey Marsh have selected more than 300 objects that will be brought together for the very first time. They include handwritten lyrics, original costumes, fashion, photography, film, music videos, set designs, Bowie's own instruments and album artwork.
The exhibition will explore the broad range of Bowie's collaborations with artists and designers in the fields of fashion, sound, graphics, theatre, art and film. On display will be more than 300 objects including Ziggy Stardust bodysuits (1972) designed by Freddie Burretti, photography by Brian Duffy; album sleeve artwork by Guy Peellaert and Edward Bell; visual excerpts from films and live performances including The Man Who Fell to Earth, music videos such as Boys Keep Swinging and set designs created for the Diamond Dogs tour (1974). Alongside these will be more personal items such as never-before-seen storyboards, handwritten set lists and lyrics as well as some of Bowie's own sketches, musical scores and diary entries, revealing the evolution of his creative ideas.
What: David Bowie is.
When: Saturday 23rd March 2013 - Saturday 28th July 2013.
Where: Victoria & Albert, Exhibition Space Two, Cromwell Road, London SW7 2RL.
In partnership with Gucci. Sound Experience by Sennheiser.
David Bowie is: Visitor and Ticket Information.
BOOKING INFORMATION:
Timed tickets are in operation. Advance booking is strongly recommended.
Free to V&A Members.
Book online
Prices:
£15.50 Full (including donation*).
£12.50 Senior citizens (including donation*).
£14.00 Full.
£11.00 Senior citizens.
£9.00 Full-time students, 12-17 year olds, ES40 holders, disabled people.
£23.00/£37.00 Family tickets (1 adult & 2 12-17 year olds / 2 adults & 2 12-17 year olds).
Plus £1 handling charge per transaction.
*If you donate a minimum of 10% on top of your ticket price and are a UK tax payer, the Gift Aid scheme means we can claim back the tax you have already paid on the earnings used to buy the ticket. This means we can claim an additional 25p for every £1 you give us - vital support for our work.
Book in person at the V&A: Prices as above. No handling charge or booking fee.
Book by phone: +44 (0)20 7907 7073 (more than 48 hours prior to visit only).
Prices:
£17.30 Full (including donation*).
£14.10 Senior citizens (including donation*).
£10.60 Full-time students, 12-17 year olds, ES40 holders, disabled people.
£26.20 Family of 3 (one adult & two 12-17-year-olds).
£40.70 Family of 4 (two adults & two 12-17-year-olds).
Includes booking fee per ticket.
Free tickets and member rates: Free to under-12s, carers accompanying disabled people, V&A Members and Patrons, ICOM / Museum Association card holders, Blue Badge Guides, American and International Friends of the V&A. Half-price tickets for Art Fund and D&AD members.
Groups (10+ visitors): 10% discount. Call +44 (0)20 7942 2211 to book. Special talks and tours are available to complement the exhibition. Call +44(0)20 7942 2211 or email
Educational Groups (10+ visitors): Admission is £2 per person for school, college and university groups booking at least 10 days in advance. Call +44 (0)20 7942 2211 to book (all pre-bookings are timed entry).
Community Groups (10+ visitors): Admission is free to community groups booking at least 10 days in advance. Call +44 (0)20 7942 2211 to book (all pre-bookings are timed entry).
Visitor Information. Exhibition opening times:
23rd March - 28th July 2013.
Daily 10.00-17.30 (last ticket sold 16.45, last entry 17.00).
Friday 10.00-21.30 (last ticket sold 20.45, last entry 21.00).
Exhibition closes 15 minutes prior to the Museum closing.
Late night opening: The V&A is open late every Friday - why not take this opportunity to visit David Bowie is, meet friends and have a drink in our cafe-bar.
London Underground: The Museum is a 5-minute walk from South Kensington London Underground station (Piccadilly, Circle and District Lines) and a 10-minute walk from Knightsbridge London Underground station (Piccadilly Line).
Buses: The C1, 14, 74 and 414 stop outside the Cromwell Road entrance. The Open Tour stop outside the Museum as part of their Double Decker Bus sightseeing tour of London.
Access: There is full access to the galleries. We have a wide range of services for disabled visitors. Call +44 (0)20 7942 2766 or textphone +44 (0)20 7942 2002 for details. For more information on access, see V&A Disability Information
Photography: We are not able to allow photography in the temporary exhibitions due to copyright restrictions.
Tickets are ON SALE NOW. For more details and information visit the vam.ac.uk website.
---
DAVID BOWIE WONDERWORLD NEWS ARCHIVE
September | August | July
June | May | April | March | February | January
2011 Bowie News | 2010 Bowie News | 2009 Bowie News
2008 Bowie News | 2007 Bowie News | 2006 Bowie News | 2005 Bowie News
2004 Bowie News | 2003 Bowie News | 2002 Bowie News | 2001 Bowie News
2000 Bowie News | 1999 Bowie News | 1998 Bowie News | 1997 Bowie News






| | |
| --- | --- |
| Created: October 2012 © Paul Kinder | Last Updated: 30/10/12 |