BOWIE TV and WHAT'S REALLY HAPPENING IN NOVEMBER - MONTHLY PLANNER

[BOWIEWONDERWORLD SHOP] [LATEST DAVID BOWIE ITEMS ON eBAY]

[@bowiewonderworld.com email addresses HERE]

Have YOU got some DAVID BOWIE related news or a hot scoop?
Well don't just sit there keeping it to yourself - send it in to
All news items are credited if you so wish

[DOWNLOAD DAVID BOWIE MUSIC from Amazon
]



---
BOWIE BALL 2009 NYC NEXT WEEKEND
29th November 2009




Next weekend on Saturday 5th December sees the annual BOWIE BALL taking place in New York City.

The ultimate glam rock revolution, celebrating Lodger's 30th Anniversary kicks off at 10:00pm till 4:00am.

There are a whole host of DJs. live performances, fashion presentations, burlesque, late night costume contest, makeovers and lots more.

&nbspVenue: (Le) Poisson Rouge. 158 Bleeker Street @ Thompson Street, New York City, USA.
&nbspWebsite: lprnyc.com

Check out some photographs from last years event to give you a taster of the event.

Please visit bowieballnyc.com for more details and information.


---
MEMORY OF ANOTHER FREE FESTIVAL
28th November 2009



God only knows how this slipped through the net...

A previously undocumented DAVID BOWIE performance from 1969 has come to light.

A free festival organised by the Hull Arts Centre at East Park, in Hull on Sunday 28th September 1969, had a line-up that makes the mouth water!

Not only David Bowie, but the festival had The Rats, Hutch, Chest Fever, Michael Chapman, Mighty Baby and Juniors Eyes.

The listing and advert for the Hull festival appears in The Sounds of the Cities: 'Nearly Famous': Nearly Famous - The Rock Music Scene in Hull and the East Riding During the Swingin' Sixties (Paperback) by Ray Moody.

Published by Rockumentary Press in Decemember 2001 (ISBN-10: 0954179307).

Thanks to Colin Blades for the pointer.


---
AND THE BITS FLEW FAR AND WIDE...
28th November 2009

• The Independent newspaper have an interview with DUNCAN JONES about his life in travel - [Read here]...

• Ben Todd at The Daily Mail is reporting that DAVID BOWIE is considering performing at Glastonbury in 2010. Please ignore it. As reported on 3rd September on Bowienet, David will not be performing at the festival - [Read here]...

• Former DAVID BOWIE band member JOHN HUTCHINSON is performing tomorrow at The Cellars in Scarborough, England on Sunday 29th November. Hutch is joined by Tim Townsend and admission is free. Venue: The Cellars, 35-37 Valley Road, Scarborough, England YO11 2LX...


---
LIMITED EDITION BOWIE PRINTS
27th November 2009

ST. PAUL'S GALLERY are a publishing company based in the UK and have produced under license fine art limited edition prints of three of DAVID BOWIE's finest early album covers.

'Hunky Dory', 'The Rise and Fall of Ziggy Stardust and The Spiders From Mars' and 'Aladdin Sane' prints have all been signed by both the original cover artists / designers and David Bowie himself.

They were produced from the original artwork with the involvement of both Henry Wrenn-Meleck and DAVID BOWIE himself, with only 195 prints of each available worldwide.

Hunky Dory Limited Edition Signed Print - Pencil Signed By David Bowie and Terry Pastor
Ziggy Stardust Limited Edition Signed Print - Pencil Signed By David Bowie and Terry Pastor
Aladdin Sane Limited Edition Signed Print - Pencil Signed By David Bowie and Celia Philo

For more details and information please visit the St Pauls Gallery website.


---
AND THE BITS FLEW FAR AND WIDE...
24th November 2009

• DAVID BOWIE's "Heroes" appears on the soundtrack for new movie 'Ninja Assassin'...

• NIRVANA's rendition of DAVID BOWIE's 'The Man Who Sold The World' has come out top in a list of the greatest cover tunes of all time. The The 50 Greatest Cover Songs list was sponsored by Southern Comfort and complied by USA music magazine Spin - [See full list]...

• If you still haven't signed the petition to get MICK RONSON inducted into the Rock 'N' Roll Hall Of Fame please go and SIGN IT - Mick Ronson: Musician, Arranger, Producer, Side Man to DAVID BOWIE, Dylan, Hunter and beyond, inspiration to many, a down to earth, egoless and good ol' Northern boy. PLEASE NOTE: a donation is NOT a requirement to be able to sign this petition...

• DAVID BOWIE tribute act THE JEFF DUFF BAND have a gig lined up at the Avoca Beach Picture Theatre, 69 Avoca Drive, Avoca Beach, New South Wales, Australia 2251. Enquiries: 4382 1677. 8pm Tickets $35 - [More details]...


---
ORIGINAL DAVID BOWIE ARTWORK FOR SALE
21st November 2009




Update: NOW SOLD - Two peices of original art created by DAVID BOWIE entitled D Head I and D Head II are available to purchase.

Both are acrylic and computer collage on canvas and are sized 24cm x 19cm. These are the first two in David's D Head series of paintings he created in 1995 and 1996.

They are in mint condition, are both are signed twice as apparently his holiness signed them, but when they were framed the signatures were partially covered so he kindly agreed to sign them again.

Besides his signature, there is more writing on the back, which says D Head I and D Head II, not sure if he wrote this or not but it is likely he did. [View here].

The sellers Paul and Michelle are asking for only £1,110 each if it's a genuine Bowie fan who is genuinely interested.

The last two of this series were sold on David's official BowieArt website for £2,200 each.

From Paul.


---
I'VE GOT NINETY-NINE WAYS TO PLAY MY GUITAR
18th November 2009

Two guitars formerly owned by DAVID BOWIE are up for grabs via Julien's Auctions who are hosting a 'Music Icons' auction this coming weekend on Saturday 21st November at the Hard Rock Cafe, Times Square in New York, USA.




First up is the red wine coloured Chet Atkins Country Gentleman Gibson that was used by David throughout his 1990 Sound+Vision World Tour.

It was also used in the studio during the recording of his 1.Outside album, as well as the promotional video for Pretty Pink Rose.

The guitar was manufactured at the Nashville factory on 31st January 1989 (serial number 80319537). Estimate: $20,000 - $30,000. (Realised $12,500.00)

The second Bowie guitar for auction is his Custom Chrome Steinberger L-series guitar used by David on stage and in the studio.

The guitar is one of two custom chrome-finished guitars created by Ned Steinberger. Reeves Gabrels first requested the "tin" guitar. Reeves recalls receiving the guitar only to discover that they had used a silver Mylar covering to completely cover the neck and frets of his guitar as well as the body. This unfortunately made the guitar virtually unplayable. He used it for one televised performance of one song, and subsequently donated it to the Hard Rock Cafe in Shanghai.



Bowie liked the look of the guitar and requested his own from Steinberger. Steinberger had another L-series that was used for the test run of the chrome body treatment which he sent to Bowie. The Bowie guitar did not have a Mylar covered fretboard and was a playable guitar. (Serial number 7712).

David used the guitar for the 1991/92 It's My Life World Tour and during the recording sessions for the 1991 Tin Machine II album. Also in various Tin Machine promotional videos. This guitar is also signed by David Bowie and Tin Machine members Reeves Gabrels and Tony Sales. Estimate: $10,000 - $20,000.

You can read through the electronic catalogue online - check out the db guitars on pages 22, 23, 24 and 25 - [View here]

More details and information can be found at Julien's Auctions website.


---
AND THE BITS FLEW FAR AND WIDE...
18th November 2009

• For those of you still trying to get hold of the recently released Cat People 7" vinyl by DAVID BOWIE that was originally only available via promotional methods for the Inglourious Basterds movie directed by Quentin Tarantino will be please to learn that it is now available to purchase on its own for a mere £3.99 @ HMV
stores - (from Peter)...

• Baltimore rap duo RAPDRAGONS new album entitled 'Ten Stories High' features the album's lead track, 'Moon Rocks' is built on a lurching guitar loop from DAVID BOWIE's 'Moonage Daydream'. You can listen and download the album for free at [View here]...

• Actor/Comedian/Radio Presenter/Television Host SHAUN MICALLEF has recorded DAVID BOWIE's 'Fashion' for latest album 'On His Generation'. Shaun finally gets to play all the roles he's ever wanted to play. Every interview, character, scene and song is brought to life by Shaun and Shaun alone. His megalomania, unchecked and rampant on this, his first album, will appal you. Shaun Micallef doing Christopher Walken singing David Bowie? - While you're waiting for the release check out this TV clip [View here]...

• Expect to see a DAVID BOWIE related themed bottle of wine launched by WinesThatRock in the not too distant future...

• Just a little message from me to say the Blu-ray version
of MOON directed by Duncan Jones is absolutely magnificent. What a phenomenal movie...


---
SPACE ODDITY 40th ANNIVERSARY USA RELEASED
17th November 2009



The USA release of DAVID BOWIE Space Oddity (40th Anniversary Edition)
hit the stores today (17th November).

Following the July release of David Bowie's 'Space Oddity (40th Anniversary)' digital EP and iPhone application, Virgin/EMI have released an expanded 40th Anniversary Special Edition of Bowie's classic 1969 Space Oddity album.

It is available in a deluxe 2CD package and for digital download from all major digital service providers, the commemorative edition adds 15 tracks to the digitally remastered original album, including 8 previously unreleased demos, alternate mixes and a BBC Radio performance.

Also today, the original album will also be reissued on limited edition 180-gram vinyl.

You can read the official US press release here.

From EMI

(Ed. Reviews to follow shortly).


---
LET'S JUST DANCE
17th November 2009



Mash up artist TERRY URBAN is giving away the first single 'Lady Stardust Let's Just Dance' (Terry Urban and nVMe Remix) from his new remix album 'Lady Stardust' which mashes up the greatest hits of DAVID BOWIE and Lady Gaga.

Terry told arjanwrites.com says that 'a remix project like this needed to be done with such similarities between the two pop icons.'

The album will be released for free download on Friday 20th November.

In the meantime, you can download a mash up of Bowie's 'Let's Dance' and Gaga's 'Just Dance' right here.

It's mostly Gaga sprinkled with a touch of Bowie.

From Arjanwrites.com


---
AND THE BITS FLEW FAR AND WIDE...
14th November 2009

• Tonight on X FACTOR the TV talent show in the UK, the terrible Lucan "JEDWARD" twins are to perform the DAVID BOWIE / QUEEN number one smash hit 'Under Pressure'. I was kind of looking forward to hearing Jamie Archer performing the track. Alas the song choice has been swopped at the last minute - God help us all!...

• Reminder: The excellent debut Sci-Fi movie 'Moon' directed by DUNCAN JONES gets its DVD and Blu-ray release this coming Monday 16th November - Blu-ray version
and DVD version
pre-order now and get a massive discount...

• DAVID BOWIE tribute band THE THIN WHITE DUKE are to perform at The Railway, East Street, Bromley, England on Saturday 28th November at 9:30pm - [More details]...


---
ONLY GOD KNOWS I'M GOOD
14th November 2009

Artist TRACEY EMIN's new exhibition 'Only God Knows I'm Good' is hosted at the Lehmann Maupin Gallery in New York's Lower East Side.

The exhibition opened on 5th November and runs through till 19th December and features a collection of her latest mono prints and embroidery.

The exhibition is housed in four separate spaces in the gallery. The third and smallest space holds her piece 'Only God Knows I'm Good', (lyrics from the DAVID BOWIE song 'God Knows I'm Good' which is a neon sculpture that provides the exhibition's title.

Lehmann Maupin Gallery
201 Chrystie Street (between Stanton and Rivington Sts)
Lower East Side
New York, NY 10002
lehmannmaupin.com

Check out the Emin piece in L Magazine - read here


---
ROXY KEEP SWINGING
13th November 2009

Stockport local lass and GIRLS ALOUD singer SARAH HARDING has recorded three solo songs for the soundtrack of the upcoming movie St Trinian's 2: The Legend Of Fritton's Gold.

Besides taking a lead role in the movie, Sarah has also teamed up with record producers Xenomania for her take on DAVID BOWIE's 'Boys Keep Swinging'.

The Girls Aloud Myspace blog states: "We can now announce that Sarah has recorded three exclusive tracks for the soundtrack to her new film, St Trinians 2: The Legend of Fritton's Gold.

"As well as playing the character of Roxy, Sarah has worked with Xenomania on three songs for the album.

"The rest of the album includes other original Xenomania tracks recorded by the Banned of St Trinian's and also 'I Predict A Riot' (Live From Wembley) by Girls Aloud!"

As you surely must know, Sarah is a huge db fan and has been spotted several times wearing an Amplified Clothing Bowie t-shirt as well as being the first VIP to be spotted wearing their new Aladdin Sane red dress a few months back.

The original soundtrack to St Trinians 2: The Legend Of Frittons Gold
is scheduled for release on 14th December by Polydor.


---
'IN THE STUDIO' INTERVIEWS
13th November 2009

'IN THE STUDIO', a radio programme featuring long time DJ/rock historian REDBEARD has dedicated the next show (this week Nov 9th) to the DAVID BOWIE 40th anniversary of the release of the song 'Space Oddity' and David Bowie's emergence as a great impact on music.

They have put up a front page feature of Bowie on their website at inthestudio.net with written excerpts from the interviews and pictures.

(Featured excerpt)...

Redbeard: What are your earliest perceptions of America before you came here?

David Bowie: It was the land of milk and honey for me, in a creative way. I was introduced to the American writers and jazz musicians when I was very young, when I was a kid of 9. I was given books by Jack Kerouac, (Allen) Ginsberg and (Gregory) Corso, that whole Beat crowd. And they became sort of early Bibles for me. And so because of their books, I got into jazz, and Eric Dolphy and the whole (John) Coltrane thing. A lot of it I never quite understood, but the feeling in there was enough to move me to thinking that America is the place where real breaking away can happen, where you can really go after a kind of dream. Because of jazz I naturally discovered blues, and rhythm 'n' blues, so it opened up so many avenues for me in ways that one can express one's self. It wasn't until much later that I realised that all of the things I loved, Jimmy Dean, blue jeans... well, not blue jeans these days, of course... but that everything that I loved about America were the rejects of America. They were the things that the Establishment actually didn't want people to really recognise. For me they were the great things about America.

Visitors can preview the interviews at the site, and locate the nearest radio station broadcasting the shows throughout the week, and they will be available to stream on Monday November 16th in their entirety for free from the site.

'In the Studio' is dedicated to telling the stories behind the greatest albums and musicians in rock and roll history.

Check out inthestudio.net for more details and listen to the archived Bowie interviews.

From Sean.


---
SCRATCH MY BACK
13th November 2009

As you may know PETER GABRIEL has covered DAVID BOWIE's anthemic song "Heroes" for his next album entitled 'Scratch My Back'.

His album contains twelve cover songs and is now scheduled for release on 15th February 2010.

The tracklisting run as follows:

"Heroes" (David Bowie)
'The Boy In The Bubble' (Paul Simon)
'Mirrorball' (Elbow)
'Flume' (Bon Iver)
'Listening Wind' (Talking Heads)
'The Power Of The Heart' (Lou Reed)
'My Body Is A Cage' (Arcade Fire)
'The Book Of Love' (The Magnetic Fields)
'I Think It's Going To Rain Today' (Randy Newman)
'Apres Moi' (Regina Spektor)
'Philadelphia' (Neil Young)
'Street Spirit' (Radiohead)

John Metcalfe (Gabriel collaborator) told BBC 6 Music: "The songs are not simply covers. They are major reinterpretations of some famous stuff. It's quite radical."

Metcalfe also said the album will be acoustic, using only orchestral instruments (no guitars, drums or world instruments) and range in size from sparse chamber music to a much fuller orchestral sounds.

Update: 19th November - In an interview with the Guardian Peter Gabriel says: "I wanted to do Heroes, but Bowie didn't want to sing on the album. So instead Brian Eno (who co-wrote the song) will be doing a cover of one of my songs for it."


---
GO BROMLEY BOWIE
12th November 2009



The latest issue of GO BROMLEY magazine from The Bromley Times newspaper features DAVID BOWIE in his Thin White Duke 1976 era on the cover.

'Thin White Duke' - Kate Mead looks at the early life of one of Bromley's greatest cultural exports - David Bowie.

The two-page feature covers David's life in Bromley - complete with a few silly errors - but includes some quotes from Geoff MacCormack, Ken Simmons, Stephen Roberts and photographer David Bebbington.

You can read the digital edition online - go to pages 22 and 23.

Thanks to J73 for the pointer.


---
AND THE BITS FLEW FAR AND WIDE...
12th November 2009

• THE SUN newspaper today have published one of the papp shots taken of DAVID BOWIE walking around SoHo in New York on Tuesday. - [View here] - You can see more photographs at zimbio...

• THE STEREOPHONICS frontman Kelly Jones is interviewed on Football365.com - one question asked... Q: You any good at football yourself? "Not bad... We play a fair bit on the road and we took on David Bowie's crew while we were supporting him a few years ago. He didn't play but he was at the side of the pitch heckling us. I still have a picture of him in a team photograph kneeling down 1930s style. We lost the trophy we'd won from U2's crew and Bowie - this is f**king bizarre - lowered it down behind us on the stage during our set every night like something off Spinal Tap." - [Read here]...

• LEONA LEWIS has just unveiled details of her full UK Arena tour for May and June 2010. Leona has waited until her second album to start the tour, saying "I wanted to wait until I had enough material - so I've waited until the second album. More importantly, I wanted to do a big show. I want to surprise people." She revealed she has based the tour theme on her favourite movie, Labyrinth, which as you know starred DAVID BOWIE, and is quoted as saying "I have taken lots of inspiration from Labyrinth, loads of masks and costumes. I do like a stark performance. There are moments when it works with me just standing there singing in the mist. That can be extremely powerful, but I'm going to surprise people with lots of choreography and dancing." It is also said that each show will include "dancers, lasers, holograms and state-of-the-art lighting," that Lewis has hired choreographer Travis Payne and creative director William Baker for the tour and her record label have apparently said that money is no object...

• LADY GAGA says she takes influence from DAVID BOWIE when creating her many zany images. (Ed. No shit Sherlock!) - the pop star appeared on MTV's 'It's On With Alexa Chung' in New York yesterday where she paid homage to the Rock God. She told Alex Turner's other half: "I used to sit in my apartment for hours and do (Bowie's) makeup on myself over and over again." GaGa also admitted to being an obsessive collector of David Bowie memorabilia on the show - [Watch interviews here]...


---
HUTCH ACOUSTIC SUNDAYS
12th November 2009

Former DAVID BOWIE band member JOHN HUTCHINSON is performing at The Cellars in Scarborough, England on Sunday 15th November.

The acoustic jazz-blues guitarist and songwriter 'Hutch' is back in his old home town for a residency at Cellars. Acoustic Sundays features a guest guitarist, including talented family and friends.

This weekend's guest is Sam Forrest, the singer and guitarist in Manchester rock band Nine Black Alps, who have just finished a tour. They have played in various parts of the world and have been bubbling under for a year or two.

Hutch says: "They have an international following in the rock and roll world, having had successful albums and European and USA tours over the past two years."

Sam is also half of the Sorry Kisses with Hutch's daughter Hayley. He recently released a solo acoustic album called Down the Hillside and will be playing some of his new songs on Sunday, as well as jamming some jazz and blues with Hutch.

Future guests will include Jesse Hutchinson (Nov 22nd and Dec 13th), Tom Townsend (Nov 29th) and John Watton (Dec 6th).

Hutch, who was one of David Bowie's Spiders From Mars, plays on a couple of demo tracks, 'Space Oddity' and 'An Occasional Dream', that appear on EMIs 40th-anniversary release of Bowie's Space Oddity album.

Venue: The Cellars, 35-37 Valley Road, Scarborough, England YO11 2LX. Admission: Free.

From Scarborough Evening News


---
BOWIE INSPIRED 'FUNK'
11th November 2009




DAVID BOWIE is one of several celebrities who have contributed towards the design of a line of pashmina scarves for TONIC.COM to benefit the non-profit organisation CITTA and its women's centres in Nepal and India.

The limited edition Tonic hand-knitted 100% pashmina sutra scarves all bear a particular inspired word chosen by each celebrity which has been included in the design.

Designer Lucy Barnes provided her expertise to these luxurious pieces, available in mottled grey or camel and hand embroidered with the special words chosen by celebrity supporters. From David Bowie (who chose the word 'funk') to Susan Sarandon ('awake') to Queen Latifah ('strength'), actors and musicians shared words that speak to their hearts. A Berkeley scholar then translated each one into Sanskrit and passed them on to the artisans from Citta's Himalaya Women's Centre in Nepal for the finishing touch on this perfect winter accessory.

Other celebrities involved in the scarf design are: David Byrne: 'Dust', Susan Sarandon: 'Awake', Thandie Newton: 'Surrender', Sting: 'Resolve', Scarlett Johansson: 'Reuse', Natalie Merchant: 'Silent' and Queen Latifah: 'Strength'.

The scarf is available exclusively at tonic.com will retail for $100 and will help 100 women in need.

Your impact: By purchasing one of Tonic and Citta's limited-edition pashmina Sutra Scarves, you are not only treating yourself to a beautiful new piece of wearable art, you are also helping to support the women who made them. The artisans at the Women's Center in Bhaktipur, one of Citta's beneficiaries, gain skills that they can use to provide for their families while keeping their cultural traditions alive.

Due to the economic state of Nepal, many of the women there have survived hardships (such as the loss of a husband) or may be sole breadwinners for families plagued by alcoholism or violence. Trained in knitting, embroidery, beadwork, quilting and jewellery-making, they've been able to reclaim their independence, self-sufficiency and sense of healthy community.

Citta founder and spearhead of the Sutra scarf project Michael Daube talks about the stars he knows - and the words they chose. Please visit tonic.com for more details and information on how you can support this worthwhile charity.


---
EXPLORE MOON
9th November 2009

Check out the excellent official UK website for 'Moon' directed by DUNCAN JONES @ exploremoon.co.uk - where you can enter a 'Where is Sam' free competition to win all sorts of goodies.

The DVD and Blu-ray is released next Monday 16th November with the special features on the two DVD releases being identical:

- Commentary with Duncan Jones, director of photography Gary Shaw, concept designer Gavin Rothery and production designer Tony Noble.
- Commentary with director Duncan Jones and producer Stuart Fenegen.
- Whistle - a short film by Duncan Jones (a 28-minute feature demonstrating the director's talents).
- The Making Of Moon (a 16-minute featurette taking you behind the scenes).
- GERTY Table Tennis Easter Egg.
- Creating the Visual Effects (an eleven-minute featurette showing the use of sets, miniatures and some amazing computer graphics).
- Science Centre Q&A with Duncan Jones.
- Filmmakers' Q&A from the Sundance Film Festival.

You can pre-order Moon - Blu-ray version
and receive a massive 36% discount or pre-order Moon - DVD
and save a whopping 50%!

Duncan's next movie? According to the Hollywood Reporter, Duncan is working on 'Source Code' a near-future thriller about a soldier mysteriously waking up in somebody else's body on a commuter train, with a bomb about to go off. Jake Gyllenhaal is in talks to star in the new film.


---
BOWIE BASE ONE
9th November 2009

The new DOCTOR WHO TV special 'The Waters of Mars' airs on BBC next Sunday gives a special nod to DAVID BOWIE with the naming of the planet base.

Reading through the BBC synopsis... David Tennant is joined by Lindsay Duncan and Peter O'Brien in the second special episode of 2009.

Mars, 2059. Bowie Base One. Last recorded message: "Don't drink the water. Don't even touch it. Not one drop."

Doctor Who will return to BBC One on Sunday 15 November for The Waters of Mars - the second of four specials airing throughout 2009. Starring David Tennant as The Doctor and guest starring acclaimed British actress Lindsay Duncan - best known for her roles across stage and screen (Margaret, Lost in Austen) - The Waters Of Mars is set to be one of the most terrifying episodes of the series to date.

Lindsay Duncan stars as Adelaide - the Doctor's cleverest and most strong-minded companion yet. She and The Doctor face terror on the Red Planet as they battle against a mysterious alien living within the terrarium of life on Mars' surface which infects its victims using a water compound it creates. Neighbours, Flying Doctors and Casualty star Peter O'Brien also guest stars as Ed, Adelaide's second-in-command at the base.

The Waters Of Mars is written by Russell T Davies and Phil Ford, directed by Graeme Harper and produced by Nikki Wilson.


---
GUEST LECTURER: MR FRANK SIMMS
3rd November 2009

Vocalist extraordinaire FRANK SIMMS is appearing at Roger Williams University in Bristol, Rhode Island, USA on Friday 13th November to discuss his career as a backing singer for DAVID BOWIE, Billy Joel and Madonna along with his many years as a leading commercial voice artist and actor.

As you know, Frank, who along with his brother George appeared with David on the '1983 Serious Moonlight World Tour', as well as the 'Let's Dance' and 'Black Tie White Noise' albums.

Frank, who was a founding member of the Simms Brothers Band, along with David Spinner, (another ex-Bowie sideman), will address the communications, theatre and acting students at the highly acclaimed University.

He will also appear as a guest DJ on the campus radio station, playing many mega hits he was associated with, which will be broadcast live on the college web "feed" on 13th November.

From Martin Nirschel.


---
TIGERS ON VASELINE ZIGGY GIG
3rd November 2009



Scottish DAVID BOWIE tribute band TIGERS ON VASELINE will be performing the whole of 'The Rise and Fall of Ziggy Stardust and The Spiders from Mars' album, plus a host of hits at The Garage in Glasgow next month.

Venue: The Garage, Sauchiehall Street, Glasgow, Scotland.
Date: Saturday, 12th December 2009 at 7.30pm.
Admission: £8.50.

Support will be from Gallus Cooper. See the flyer for more information.

This special gig is in aid of the Nordoff-Robbins Music Therapy In Scotland.

Go and check out myspace.com/tigersonvaselinebowietrib for more details and information on other upcoming gigs.

From TOV.


---
BOWIE BBC iPLAYER
2nd November 2009

If you missed the 60 minute BBC RADIO 2 rebroadcast of DAVID BOWIE's 2002 live performance from Maida Studios in London you can still listen in via the BBCi Player.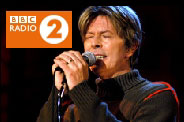 ---
NEW BOOK: DAVID BOWIE 1947-1971
1st November 2009



DAVID BOWIE 1947-1971
ADDITIONS NUMBER 2 - (Limited Edition of 100)






Ninety-two glorious A4 pages, four in full colour. The first fifty books come with a new/retro Bowie 1960s badge.

We present for your pleasure our 5th book on David from the years 1947-1971, we would like to explain that this is the final book from us covering these years as we think that we have uncovered and produced everything that is currently available at present.

This book yet again has been over three years in the making and has a lot fun putting together (most of the time).

Each book is jam packed with ultra rare photos, articles, autographs, posters and much more. Many of which are unpublished.

We would also like to point out that we make absolutely no financial gain from these books. They are done out of our admiration of Mr David Bowie who has given us immense pleasure over the years.

Books will be posted as quickly as possible, but please bear in mind the current postal dispute in the UK.

This book is available now via PAYPAL (peterbdriver@hotmail.com).

UK - £15 + £2 postage = £17 / Europe - £15 + £3 = £18 / Rest of the World - £15 + £5 = £20.

From Pete D.


---
SPACE ODDITY 40th ANNIVERSARY USA RELEASE
1st November 2009



The US release of DAVID BOWIE Space Oddity (40th Anniversary Edition)
hits the stores this month on 17th November.

Following the July release of David Bowie's 'Space Oddity (40th Anniversary)' digital EP and iPhone application, Virgin/EMI will release an expanded 40th Anniversary Special Edition of Bowie's classic 1969 Space Oddity album on November 17th.

To be available in a deluxe 2CD package and for digital download from all major digital service providers, the commemorative edition adds 15 tracks to the digitally remastered original album, including 8 previously unreleased demos, alternate mixes and a BBC Radio performance.

On the same date, the original album will also be reissued on limited edition 180-gram vinyl.

You can read the official US press release here.

From EMI


---

OLDER BOWIE NEWS

October | September | August
July | June | May | April | March | February | January
2008 Bowie News Archives | 2007 Bowie News Archives | 2006 Bowie News Archives
2005 Bowie News Archives | 2004 Bowie News Archives | 2003 Bowie News Archives
2002 Bowie News Archives | 2001 Bowie News Archives | 2000 Bowie News Archives
1999 Bowie News Archives | 1998 Bowie News Archives | 1997 Bowie News Archives